EIVIND MELLEBY/MARK STRUBE MOVE INTO THE LEAD AT 96TH BACARDI CUP
March 8, 2023 – Miami, USA

Expectations for racing at 1100 hours today were swept aside as the breeze filled in later and lighter than forecast on race day 3 at the 96h Bacardi Cup.

Eivind Melleby/Mark Strube played another consistent hand with finesse, scoring a 4th to edge into the series lead.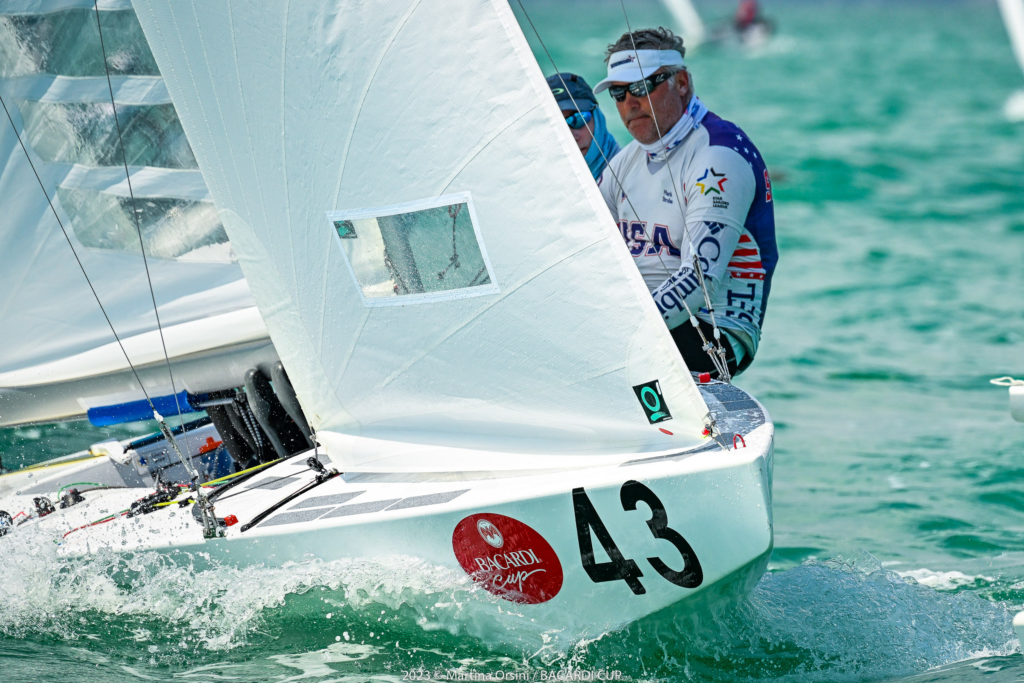 An on-water postponement saw the Race Committee searching Biscayne Bay for the breeze, before selecting the southern bay area. In extremely shifty conditions racing got underway and two races took place. The Race Committee subsequently abandoned the opening race of the day, series race 2, which will be resailed on Thursday, March 9, 2023.
 
After a long eight-hour day on the water, tonight's mid-week Bacardi party and cocktails was a welcome unwind.
 
Playing it safe
Seventy-three boats make a long start line, so no surprise it took three general recalls, then a black flag start to get race 3 away. Casualties of the UFD penalty included Eric Doyle/Payson Infelise, who plummet to 40th overall.
 
Switzerland's Piet Eckert/Frederico Melo led the fleet upwind in 14 knots of breeze, but were overhauled by Austria's Hans Spitzauer/Christian Nehammer who went on to take the win. The Austrians were at their best, making up for yesterday's 10th place finish, and will no doubt continue to nurture their winning formula.
 
"We did our programme during starting, we were of course aware of the black flag, so it's super dangerous. We did a really good start, conservative but good," said Nehammer. "We were able to stay on the left side and be at the top mark second or third and we were able to get into first place."
 
Pushing hard behind Spitzauer/Nehammer were defending Bacardi Cup champions Mateusz Kusznierewicz/Bruno Prada in second, with Eckert/Melo going on to finish in third. Eckert/Melo, who were 2020 Star Class European Champions, were satisfied with the result, despite passing over the lead.
 
"Sometimes it's hard to lose the lead," commented Eckert. "But I think it was a great day for us. A great keeper so we are motivated for the next days. We want to stay in contention, not make mistakes or less mistakes than the others and then we will see and count the points in the end."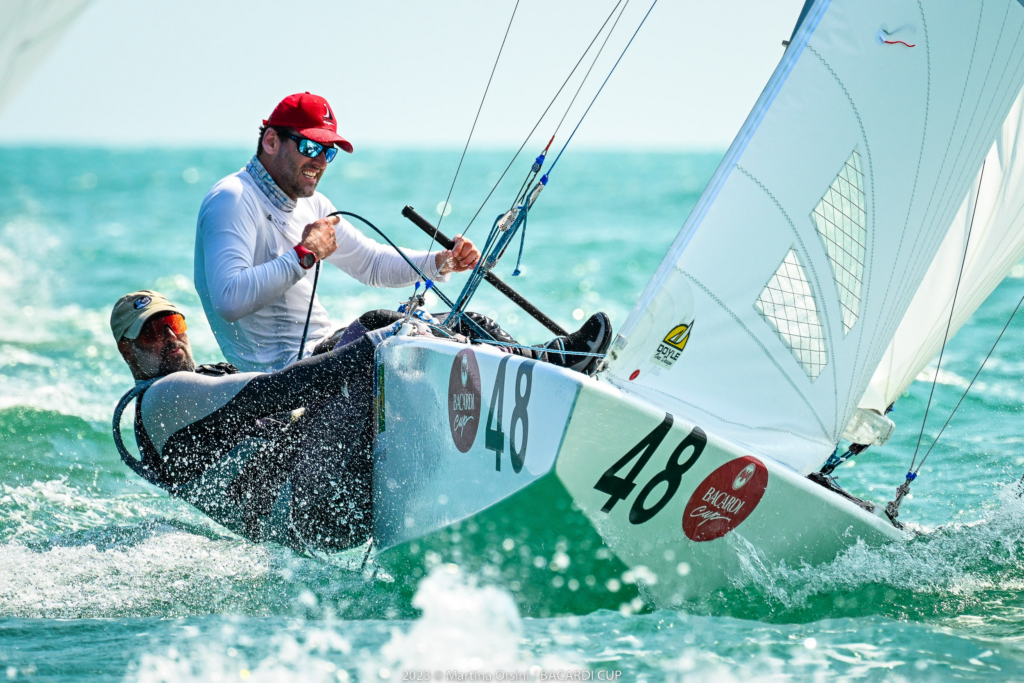 Bacardi Cup leaders Melleby/Strube have previously raced together, but it has been a while as Melleby explained, "We kind of figure it out together, but there is always a little bit of practice so we can still up our game a little bit. Hopefully we can do that over the next three days, so it will be exciting."
 
"We had solid races so far, the boat is working very well, so a shout out to Austin Sperry for letting us use the boat," concluded Melleby.
 
Just three points behind are Kusznierewicz/Prada, with overnight leaders Jørgen Schönherr/ Markus Koy in third after their 10th place result, and on tiebreak with Spitzauer/Nehammer in fourth.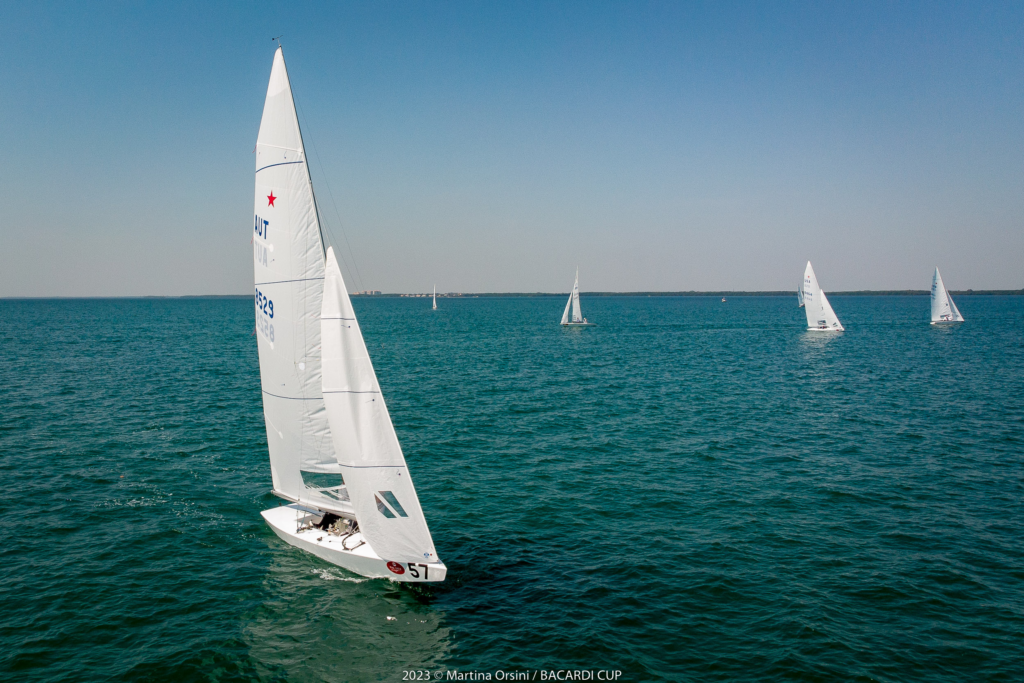 Provisional Results – Top 10 after two races
1. Eivind Melleby / Mark Strube (NOR 2017) – 6 pts
2. Mateusz Kusznierewicz / Bruno Prada (POL 8548) – 9 pts
3. Jørgen Schönherr / Markus Koy (DEN 8532) – 11 pts
4. Hans Spitzauer / Christian Nehammer (AUT 8529) – 11 pts
5. Marin Misura / Tonko Barac (CRO 8531) – 16 pts
6. Leandro Altolaguirre / Lucas Altolaguirre (ARG 1945) – 17 pts
7. Piet Eckert / Frederico Melo (SUI 8575) – 18 pts
8. Paul Cayard / Frithjof Kleen (USA 1988) – 18 pts
9. Peter O'Leary / Stephen Milne (IRL 8118) – 22 pts
10. George Szabo / Guy Avellon (USA 8537) – 22 pts

The Star Class is scheduled to contest four more races over the next three days, for a six-race series, with the discard kicking in after race five. Teams are competing for the prestigious Bacardi Cup and Tito Bacardi Cup Trophies, with prizes also awarded to the top finishing U30 team, Masters (skippers aged 50 through 59), Grand Masters (skippers aged 60 and above) and Exalted Grand Masters (skippers aged 70 and above). As always, the Tammy Rubin-Rice Trophy presented to the highest placing team who did not otherwise win an award.
 
Tomorrow, Thursday, March 9, the J/70, Melges 24, VX One Melges 15 and 69F will open their three-day series.