FULL THROTTLE RACING IN PERFECT CONDTIONS AT 96TH BACARDI CUP AND BACARDI INVITATIONAL REGATTA
March 9, 2023 – Miami, USA

A stunning fleet of one hundred and seventy-one boats were out on Biscayne Bay as the 96th Bacardi Cup entered its fourth day and the Bacardi Invitational Regatta kicked off.

Racing doesn't get better than this, with the perfect Miami weather delivering 12-15 knots of breeze, challenging shifts and pressure, with the early cloud cover giving way to sunshine. After racing, it was time to soak up the atmosphere shoreside accompanied by Bacardi's renowned hospitality.

Defending Bacardi Cup champions Mateusz Kusznierewicz/Bruno Prada move into the lead, with plenty of contenders across the J/70, Melges 24, VX One, Melges 15 and 69F daring to dream for race track dominance in the day's full-on racing.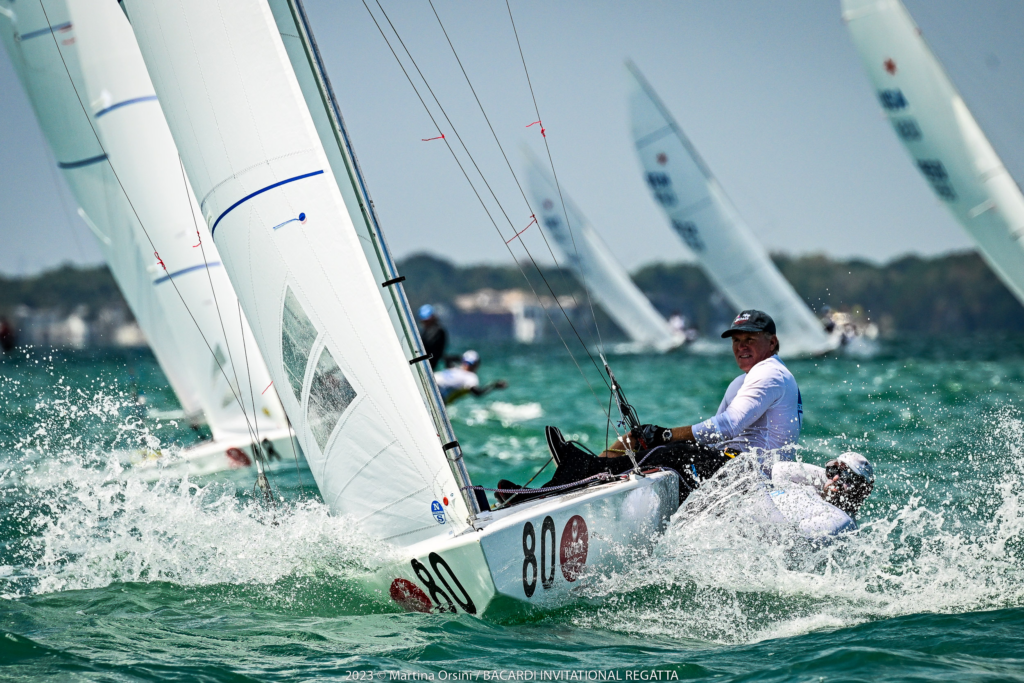 Star Class
Two general recalls for the Star as the fleet re-contested yesterday's abandoned race 2. A five-leg race in 12 knots of breeze tested teams' endurance and displayed their vast sailing prowess. Never underestimating the fleet quality, five of the boats inside the race top ten carried the gold Star mainsail logo awarded to World Champions.
 
Yet again Piet Eckert/Frederico Melo led the fleet to the first mark, before 2019 Bacardi Cup champions Eric Doyle/Payson Infelise dismantled the opposition to take the lead and the win after a battle in the second upwind. They were at their best and making up for yesterday's BFD error. However, their scorecard won't be realised on the leader board until the discard kicks in after race 5. They currently sit in 25th from scores of 3,1, 74 (BFD).
 
"It was a little tough to take yesterday, it got us a little fired up," reflected Doyle on their penalty score. "It was good motivation to get us back in the regatta."
 
Speaking on today's win, he continued, "We are happy when it is windy and shifty is pretty nice too. It is anybody's game then. But if you are feeling confident and feeling good you can tack on the shifts, try and surf a little downwind and be a little bold at times, which we like."
 
Team work is key said Infelise, "We work well, our communication in the boat is really good, so we know what moves are coming at what time. We are very happy with it."
 
In reference to the BFD penalty, Doyle added, "We can't make any mistakes now. There are so many good guys, we have got to go for it. It has put us in a little bit of a corner. We have got to have some bold races if we want to win the regatta. That is what we are here for, and it is going to be fun."
 
Defending Champions Mateusz Kusznierewicz/Bruno Prada finished in third and gear up to top the leader board, with overnight leaders Eivind Melleby/Mark Strube finishing two places behind and now second overall.
 
Regulars on the Star stage, Ireland's Peter O'Leary/Stephen Milne finished in 2nd place and move up to 6th overall.
 
Star Provisional Results – Top 5 after Race 3
1. Mateusz Kusznierewicz/Bruno Prada (POL) – 12 pts
2. Eivind Melleby/Mark Strube (NOR) – 14 pts
3. Hans Spitzauer/Christian Nehammer (AUT) – 18 pts
4. Piet Eckert/Frederico Melo (SUI) – 22 pts
5. Leandro Altolaguirre/Lucas Altolaguirre (ARG) – 22 pts
 
Melges 24
Peter Duncan's 'Raza Mixta' team took the opening win with a tidy lead over the other twenty-four boats. Duncan led race 2 as well, but a ripped kite on the first downwind knocked them back and, despite nifty work by Erik Shampain to rig the spare for the final downwind, they couldn't recover. They finished in third, with another 3rd in race 3 giving them the overall lead. You wouldn't expect anything less from the reigning Melges 24 World Champions.
 
The day featured three different race winners, with Bruce Ayres on 'Monsoon' and Alessandro Rombelli on 'STIG' also proving a masterful match. No wins but a consistent 2,4,4 scorecard from Drew Freides' team on 'Pacific Yankee', who won both of the Bacardi Winter Series events, sees them in second overall.
 
Melges 24 Provisional Results – Top 5 after Race 3
1. Peter Duncan/Victor Diaz de Leon/Patrick Wilson/Morgan Trubovich/Erik Shampain (USA) – 7 pts
2. Drew Freides/Nic Asher/Charlie Smythe/Alec Anderson/Mark Ivey (USA) – 10 pts
3. Bruce Ayres/Thomas Dietrich/Edward Hackney/Chelsea Simms/Jeremy Wilmot (USA) – 15 pts
4. Peter Karrié/Alessandro Franci/Niccolò Bianchi/Alessandro Saettone/Saverio Cigliano (GER) – 17 pts
5. Brian Porter/RJ Porter/Bri Porter/Matt Woodworth (USA) – 19 pts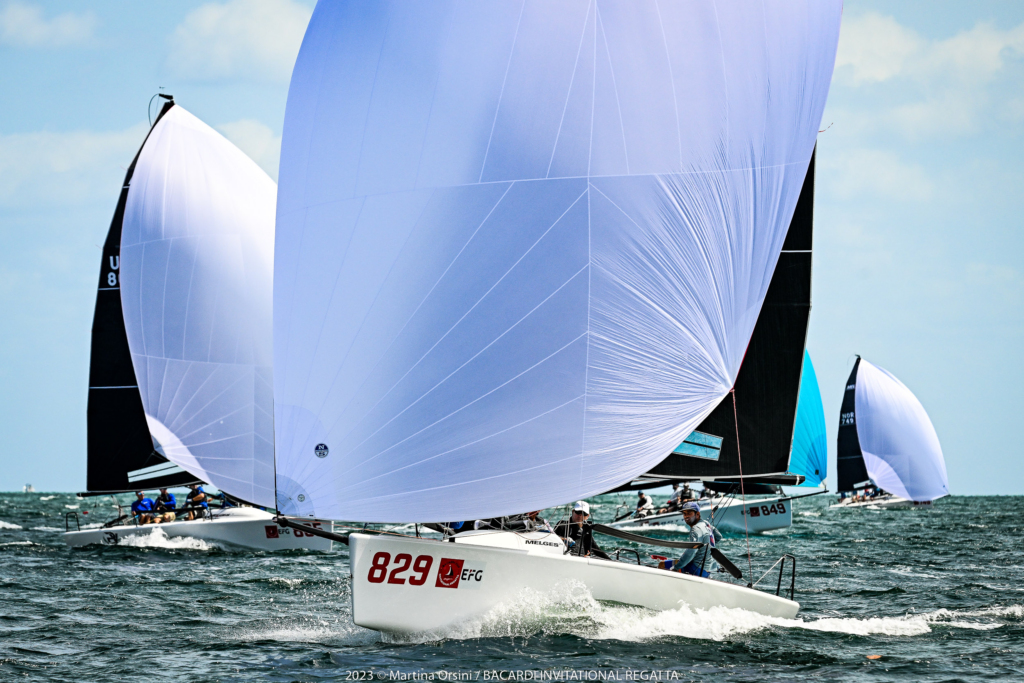 J/70
The opening race of the J/70 series got underway in a 10 knots breeze from the east and a choppy sea. John Heaton's 'Empeiria' were always going to be the ones to beat and have honed their skills together over the past three years. They came out on top at the two preceding Bacardi Winter Series events and reinforced their reputation by staking a claim on race 1, and following up with a 2, 2 to lead overall.
 
"My job is to not look around and to just sail the boat as fast as I can," commented John Heaton. "It is typical with our team, the guys have set up the boat really well, so I can drive it a lot of times without a lot of interference or suggestions which allows them to look around a lot more which is I think a strength of our team.
 
"We got off the line reasonably well, we tried to play shifts. The one lesson perhaps is we were patient with the shifts and waited for the pressure and not just the shifts. We sailed through a couple of shifts that were light, to wait to get into pressure along with a shift."
 
Race wins also for Bruce Golison's 'Midlife Crisis' and Robert Hughes' 'Heartbreaker'.
 
Not such a good day for the defending champions, Paul Ward's 'Eat Sleep J Repeat', who followed up their second place in race 1 with a UFD penalty in race 2, before upgrading to a third in race 3. With just one discard coming into play after race 6, they leave themselves no room for mistakes across the rest of the series.
 
However, their day was better than Charlie Thompson's 'Brutus II' team, who came into the regatta with high expectations, but most probably ended any hope of a top ten finish by scoring two start line penalties to end day 1 in 28th out of the thirty-four boat fleet.
 
J/70 Provisional Results – Top 5 after Race 3
1. John Heaton/Will Felder/Zeke Horowitz/Zachary Mason (USA) – 5 pts
2. Bruce Golison/Morgan Reeser/Chris Stocke/Jeff Reynolds (USA) – 13 pts
3. Robert Hughes/Willem Van Way/Mark Gauthier/Manuel Weiller (USA) – 14 pts
4. Richard Witzel/Jud Smith/Carlos Robles/Malcom lamphere (USA) – 15 pts
5. David Jannetti/Andy Horton/Kris Werner/Travis Odenbach (USA) – 21 pts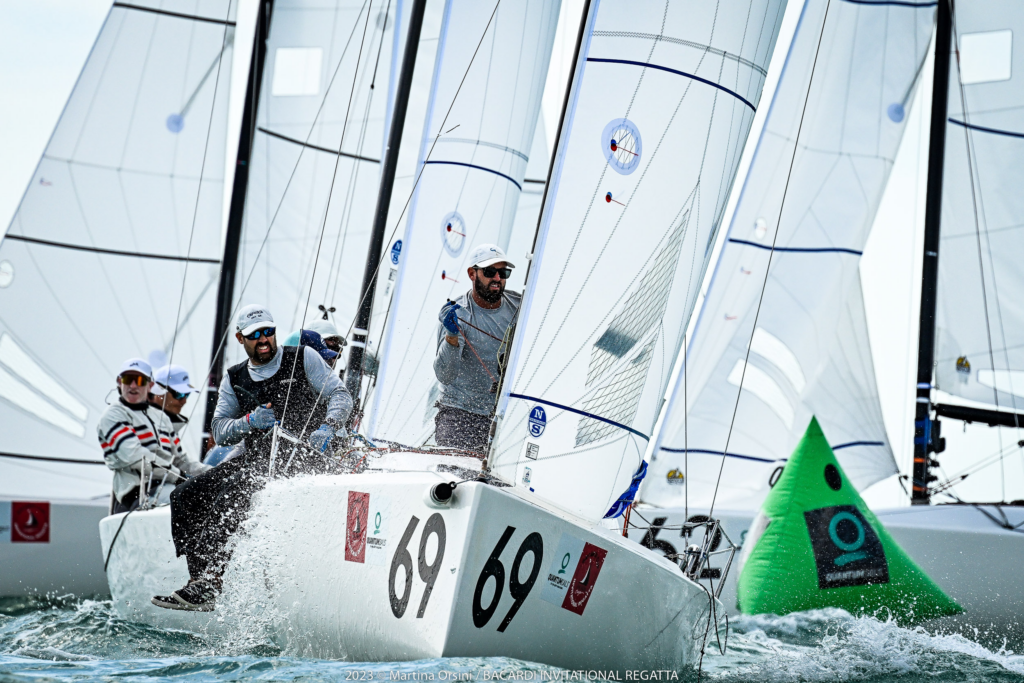 VX One
Two general recalls for race 1 in the VX One led Principal Race Officer Shannon Bush to say jokingly, "We're done with practice starts!", as she went for a U Flag. In response the fleet started clean for the first of the day's four races
 
No practice needed for Christopher Alexander/Grace Howie/Ricky Welch who pulled the right strings to take out every race win and lead the twenty-four boat VX One fleet by 18 points over Jono Shelley/Benji Shelley.
 
Alexander had one word to describe the day, "Awesome! It couldn't have been any better. Four bullets, perfect breeze, warm, going fast and a lot of fun."
 
Last year's winners Michelle Warner/Austin Powers/Monica Morgan sit in third overall, with a helpful points margin to the fourth placed team.
 
VX One Provisional Results – Top 5 after Race 4
1. Christopher Alexander/Grace Howie/Ricky Welch (USA) – 4 pts
2. Jono Shelley/Benji Shelley (GBR) – 22 pts
3. Michelle Warner/Austin Powers/Monica Morgan (USA) – 23 pts
4. John Porter/Sam Kerner (USA) – 30 pts
5. Kaitlyn Liebel/Mark Liebel/Jordan Wiggins (USA) – 32 pts
 
Melges 15
The debut appearance of the Melges 15 at the Bacardi Invitational Regatta sees eight teams make the trip to Miami. Domination across the first two races from Pamela Rose/Kathleen Tocke and Rob Britts/Jillian Aydelotte, who nailed the starts and duelled throughout.
 
Britts/Aydelotte lost their early advantage in race 1 to give the win to Rose/Tocke, with a switch in finishing order for race 2. In a small fleet and with clear air, it is all about boat speed and decisions. Behind the leaders, it was a similar battle of wills and trading punches around the track between Kent Sisk/Katie Gluskin and Rich Horton/Amanda Horton.
 
Pamela Rose/Kathleen Tocke did not compete in race 3, with another win going to Britts/Aydelotte, second to Sisk/Katie Gluskin and third to the Hortons.
 
Melges 15 Provisional Results – Top 5 after Race 3
1. Rob Britts/Jillian Aydelotte (USA) – 4 pts
2. Kent Sisk/Katie Gluskin (USA) – 9 pts
3. Rich Horton/Amanda Horton (USA) – 10 pts
4. Pamela Rose/Kathleen Tocke (USA) – 12 pts
5. Danny Woodruff/Lucas Tejada (USA) – 19 pts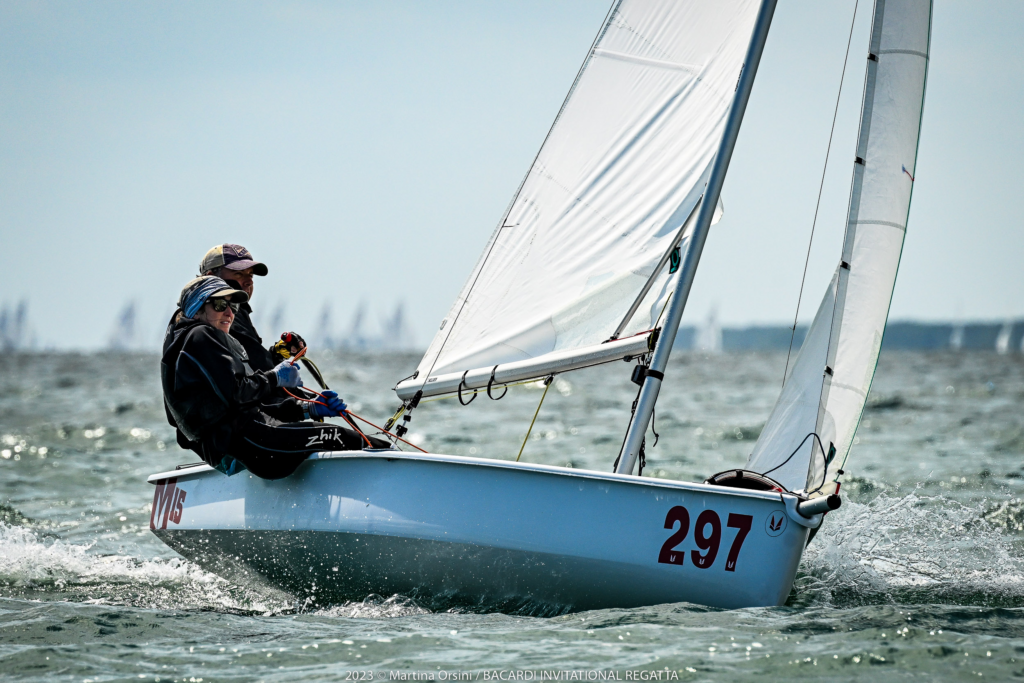 69F
Five races for the foiling 69F, with the newer teams finding their groove in the seven-boat fleet. CJ Perez, skipper on America Magic, said, "We had great foiling conditions and I feel like Magic did a really good job of homing in on our skills upwind. There was really big improvement there."
 
Whilst Flying Nika 47 continue to crush the fleet and claim every win, Principal Race Officer Carol Ewing can see performance differences amongst the rest of the fleet compressing.
 
"All the teams have finally gelled to a point where the racing is a lot closer, and the competition is getting stiffer. They're all ramping it up! There were some exciting races today."
 
69F Provisional Results – Top 5 after Race 19
1. Flying Nika 47 – 324 pts
2. Flying Nika 74 – 265 pts
3. NYYC A Magic 1 – 255 pts
4. NYYC A Magic 2 – 260 pts
5. Team Happy – 265 pts