GLORY DAYS AT BACARDI WINTER SERIES EVENT 2 ON BISCAYNE BAY, MIAMI
FOR IMMEDIATE RELEASE
January 29th, 2023
Three days in a row of perfect sailing conditions on Biscayne Bay, January 27-29, 2023, and a dream event for all, with fantastic breeze, sun and shoreside Bacardi bonhomie at Bacardi Winter Series Event 2.

A leaderboard shake-up saw all new leaders in the sportboats after today's racing, with J/70 glory claimed by John Heaton's 'Empeiria' and Drew Freides' 'Pacific Yankee' crowned in the Melges 24, whilst Harry Melges IV sealed victory with NYYC 'American Magic Team 1' in the 69F.

The change of breeze and flatter water called for a new race strategy, with the wind easing to 10-15 knots from the east and tapering off as the day unfolded. Quantum Sails shared their insights on the new weather pattern, before it was out to the racetrack with all starts getting away to plan.

The Bacardi Winter Series Event 2 wrapped-up with the Bacardi Happy Hour at Shake-A-Leg-Miami and prize giving celebrations. Teams now look to the next event as the focus moves to the renowned Bacardi Cup and Bacardi Invitational Regatta in just over one month's time, March 5-11, 2023. Entries are open for the Star, J/70, L30, Melges 15, Melges 24, VX One and 69F Classes.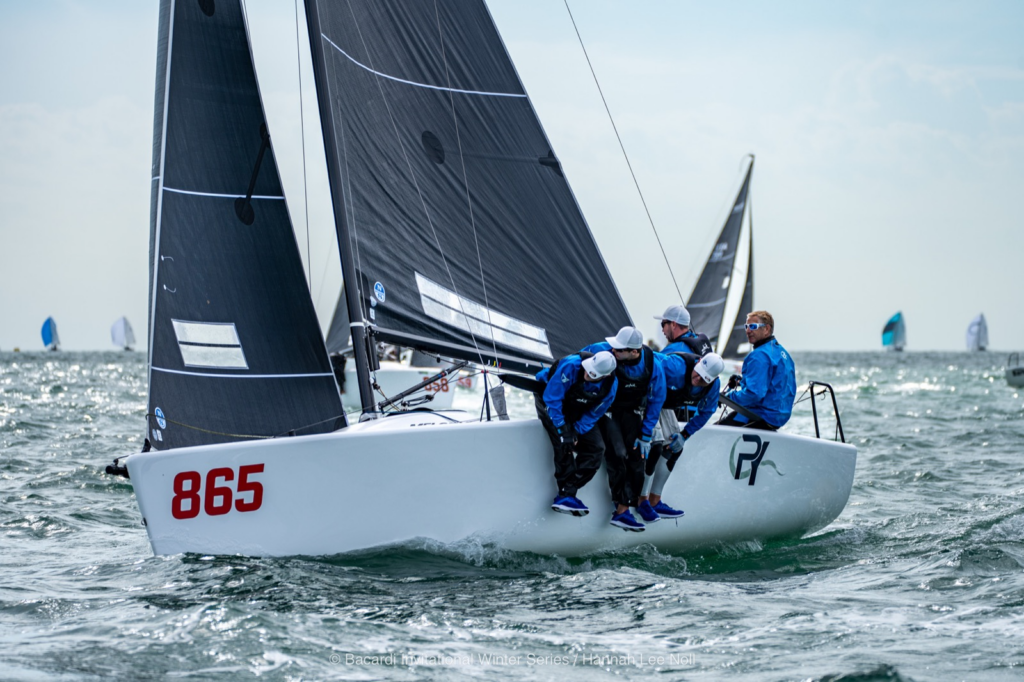 Melges 24
The day's opening race 7 was a start to finish control game from Michael Goldfarb and his team on 'WarCanoe'. Peter Duncan's 'Rasta Mixta' picked their way through the fleet, converting a 4th at the first mark to 2nd at the finish to claim their best result of the series and third to Bruce Ayres' team on 'Monsoon'.
 
Series leaders going into the day, the Italians on 'Bombarda' still held the lead, but after scoring a 7th place finish in race 7 the points were compressed, with just 10 points between 1st to 5th, and then a 10 point gap to 6th place.
 
All change for race 8, as 'Pacific Yankee' pulled it out of the bag to wrestle their way up from fourth overall, leading to the first mark and piling it onto the finish, to claim what turned out to be the first of back-to-back wins, with 'Bombarda' relegated to a fourth place.
 
Making their mission a mountain going into the deciding race 9, with scores of 8,4, series leaders 'Bombarda' saw their points advantage diminish over the chasing pack. They just needed to stay ahead of 'Pacific Yankee' to seal victory.
 
A thrilling final race 9 was all about reactions and skill, as several teams were in the running for the event win and more in touching distance of the podium. An epic battle from 'Pacific Yankee' saw them save their best until last, show their pedigree and do what was needed to claim the final race win and seize overall victory, by 1 point over 'Bombarda'. The Italians were toppled by their 8th place finish, with Bruce Ayres' 'Monsoon' coming through to cross the line in 5th place for third overall.
 
'WarCanoe' helmed by Michael Goldfarb had put themselves in the running for a podium finish, but an unfortunate UFD penalty in race 9 dropped them to 4th overall.
 
"The feeling is fantastic," said Charlie Smythe, trimmer on 'Pacific Yankee'. "We really missed Drew today and yesterday, but bringing Marcus in and having a great time with him, he has been part of 'Pacific Yankee' for a long time.
 
"We just wanted to make Drew proud. It was all fight, never giving up. We just did what we had to do, which was win the last two races and let the chips fall where they fall," he noted in reference to their usual helm Drew Freides who could only race on Friday, with Marcus Eagan stepping in.
 
On what made the difference to the team's performance when it really mattered, bowman Kyle Navin commented, "Really good upwind speed was the key today and keeping it going through the chop, light air and always hitting the shifts."
 
'Pacific Yankee's' coach Vince Brun, who amongst many accolades won the first ever Melges 24 Worlds in 1998, added, "They are a good team, they have a good time together and sail well together, because it is a good group of people."
 
Melges 24 Final Top 5 results – after 9 races
1. Marcus Eagan / Nic Asher / Charlie Smythe / Kyle Navin / Mark Ivey (USA 865) – 23 pts
2. Andrea Pozzi / Carlo Zermini / Matteo Ivaldi / Stefano Ciampalini / Nicolas Dal Ferro (ITA 830) – 24 pts
3. Bruce Ayres / Thomas Dietrich / Edward Hackney / Chelsea Simms / Jeremy Wilmot (USA 851) – 29 pts
4. Michael Goldfarb / Chris Rast / Jonny Goldsberry / Matteo Ramian / Chris Watters (USA 825) – 31 pts
5. Peter Duncan / Victor Diaz de Leon / Norman Berge / Morgan Trubovich / Erik Shampain (USA 829) – 31 pts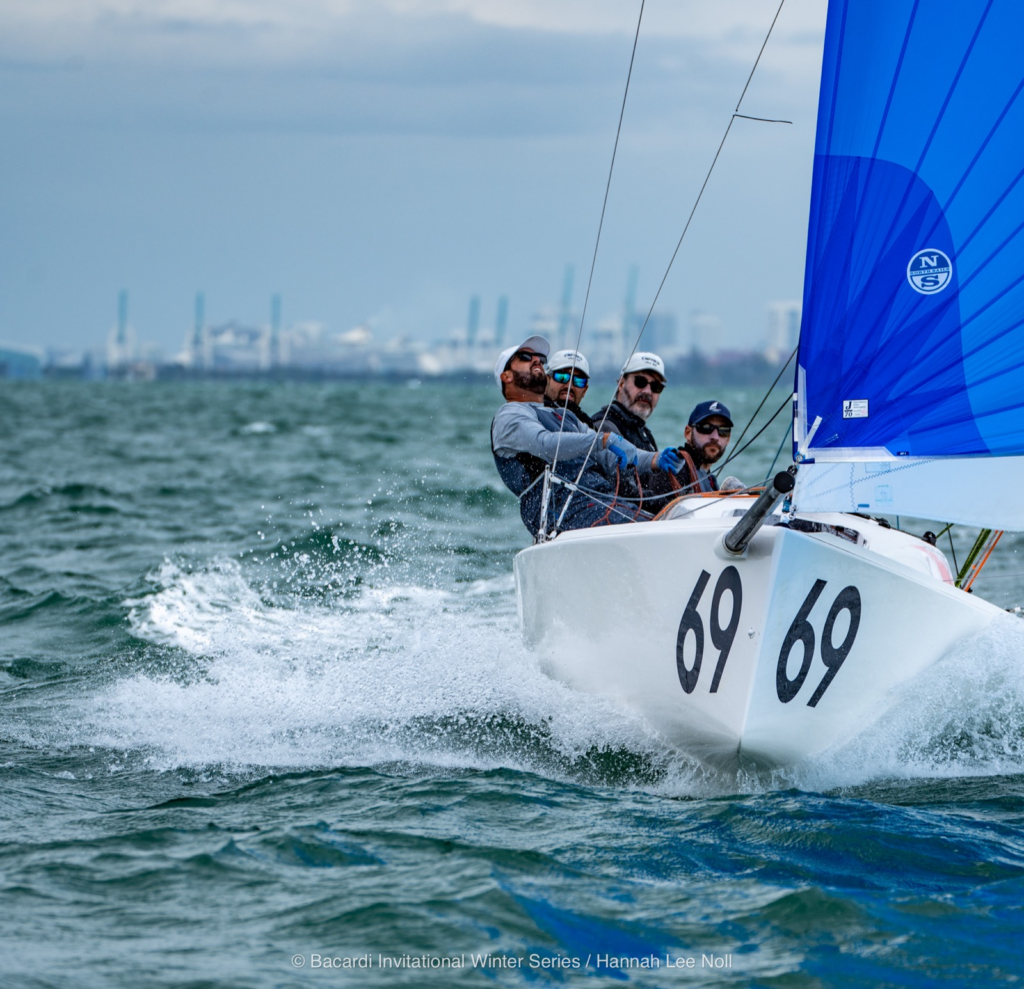 J/70
A real mix-up in fleet order throughout race 7, with early leader Daniel Goldberg on 'Bazinga' dipping away from the frontrunners, before clawing on the downwind to nail a second, behind Great Britain's 'Brutus III', who pulled off another win with Josie Gliddon at the helm. A third-place finish to John Heaton's 'Empeiria' positioned them on tiebreak with series leaders, Robert Hughes' team on 'Heartbreaker'. 
 
All change again in race 8, with 'Gaucho 3' punching through the fleet to claim their first race win, with 'Empeiria' pulling another top result in second, and David Janetti's 'Very Odd' in third. 'Empeiria' was now propelled into a 4-point advantage over 'Heartbreaker', and third to 'Brutus III'.
 
Going into race 9, 'Empeiria' looked assured of overall victory, unless 'Heartbreaker' won the race. No chance there as 'Brutus III' romped home to another blinding race win and elevated themselves to second overall, with 'Empeiria' and 'Heartbreaker' scoring 9 and 7 respectively. 
 
A stellar win to John Heaton's 'Empeiria', and an impressive climb up the leaderboard for 'Brutus III', from 9th after the opening day to 2nd overall, with Robert Hughes' 'Heartbreaker' settling for third.
 
"We had really good starts and good boat speed," reflected Heaton. "I have a really good team. We have sailed for two years together and I think our ability to keep going is a testament of our work. 
 
"I am not exactly sure what happened," he proffered about the turnaround in leaderboard fortunes. "Our focus today was on ourselves and trying to sail really well, sail fast and keep going. The last race today, we have something to learn because we did not sail our  best race the last race, so we need to learn how to finish regattas, but we are happy with our progress today and the whole weekend. Testament to the other competitors too, just make us all better. It is impressive sailing."
 
Charlie Thompson of 'Brutus III' paid tribute to the fleet, saying, "With a tight fleet like this, it is the best fleet in the world, you have got to have a good start. We managed to get away clean three times. It was a bit of a fight at the top mark and after that you just got to pick your lane and take it from there. I've got a great crew. I am also very proud to have two excellent girls sailing with me. They bring a balance to the boat that maybe isn't there if you are sailing with an all-male crew."
 
"I've never done a J/70 regatta helming before," said Josie Gliddon. "We just have a lot of fun and sailing should all be about fun to start off with and if you have good guy and girls and have fun you tend to do quite well."
 
J/70 Final Top 5 results – after 9 races
1. John Heaton / Will Felder / Zeke Horowitz / Zac Mason (USA 169) – 25 pts
2. Charlie Thompson / Chris Grube / Bex Saxton / Josie Gliddon / Elisabeth Whitener (GBR 1123) – 30 pts
3. Robert Hughes / Marc Gauthier / Willem Van Waay / Manu Weiller (USA 353) – 31 pts
4. Douglas Rastello / Alex Curtiss / Orrin Starr / John Wallace (USA 602) – 33 pts
5. Richard Witzel / Carlos Robles / Max Salminen / Thomas Barrows (USA 1562) – 42 pts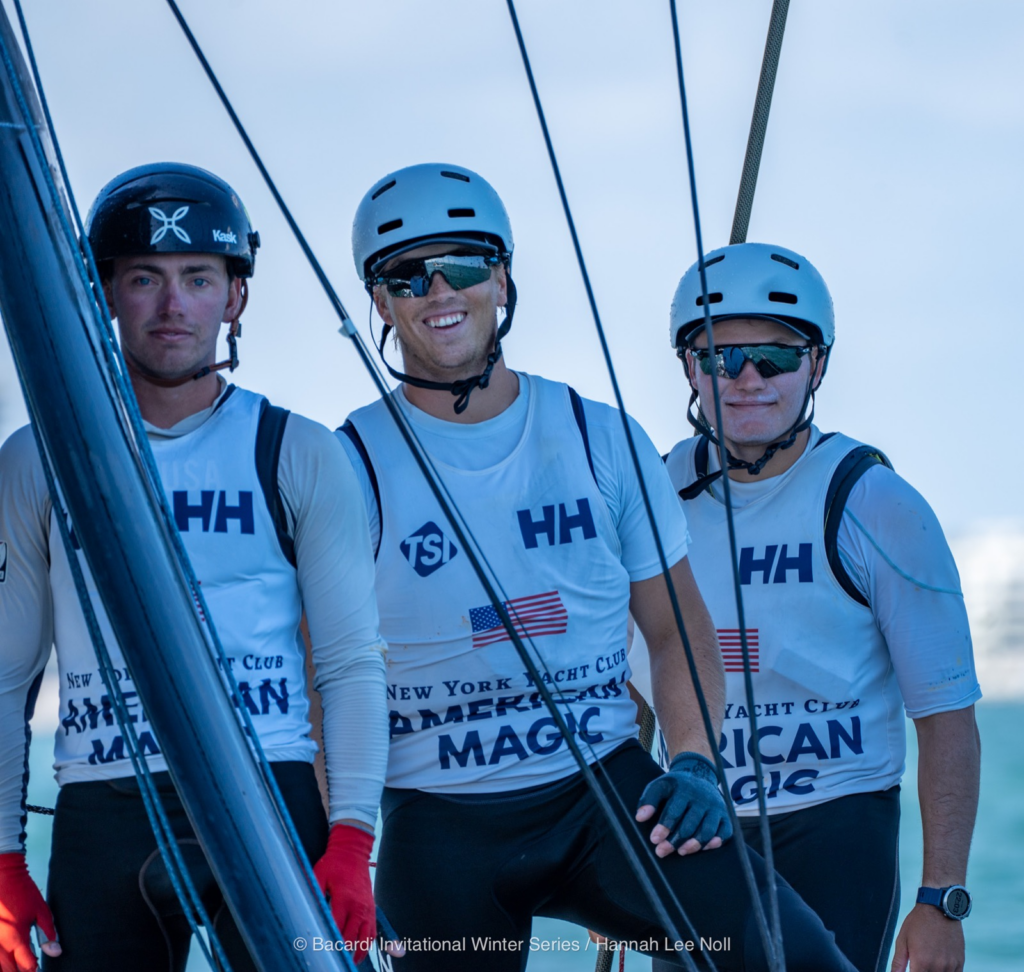 69F
A mixed format for the foiling 69F, with the six races featuring three one-lap windward/leeward races, followed by three races on the quadrilateral course with a reaching start, downwind leg and reach upwind to the finish.

Another remarkable day for NYYC 'American Magic Team 1', helmed by Harry Melges IV, as they scooped up five more wins.

"It feels awesome to come on top this weekend," said Melges. "We had a really nice three days of racing. It was pretty windy the whole time, so we had some really good speed runs and tons of fun."

Commenting on what made the difference to their path to victory, he continued, "We were able to practice a bunch before this event, which was great, and the guys I am sailing with I have sailed with most of my life so that is pretty easy," he added in reference to teammates Severin Gramm and Ripley Shelley. "I think our manoeuvres were really strong this weekend, so that really helped us,"

No change in the leaderboard order for second and third, with Rocco Falcone, Filipo Amonti and Teresa Romairone on Antigua Rhum Runners and Charlie Hibben, Ford McCaan and Cam Farrah on NYYC American Magic Team 3 holding firm.

69F Final Results – after 12 races
1. NYYC American Magic Team 1 – 331 pts
2. Antigua Rhum Runners – 324.5 pts
3. NYYC American Magic Team 3 – 296 pts
4. NYYC American Magic Team 2 – 270.5 pts
5. Flying Canucks – 261 pts
6. Pitch Perfect – 256.5 pts

Come sail with us at the Bacardi Cup Invitational Regatta, March 5-11, 2023.
Follow at:
Web: bacardiinvitational.com
Facebook: facebook.com/BacardiCupInvitational
Instagram: instagram.com/bacardi_regatta
About Bacardi U.S.A., Inc.
Bacardi U.S.A. Inc. is the United States import and distribution arm of family-owned Bacardi Limited, the largest privately held spirits company in the world. The company boasts a portfolio of some of the most recognized and top-selling spirits brands in the United States including BACARDÍ® rum, PATRÓN® tequila, GREY GOOSE® vodka, DEWAR'S® Blended Scotch Whisky, BOMBAY SAPPHIRE® gin, CAZADORES® 100% blue agave tequila, MARTINI vermouth and sparkling wines, the world's leading vermouth and the world's favorite Italian sparkling wines, and other leading and emerging brands. Founded more than 158 years ago in Santiago de Cuba, Bacardi Limited currently employs more than 7,000, operates more than 20 production facilities in 11 countries, and sells its brands in more than 170 countries. Bacardi Limited refers to the Bacardi group of companies, including Bacardi International Limited. Visit www.bacardilimited.com or follow us on Twitter @BacardiLimited or Instagram @BacardiLimited1862. Enjoy Responsibly.
About Quantum Sails:
At Quantum, we're connected to sailors everywhere through our love of sailing and our belief that facing every challenge head-on is infinitely rewarding. For us, that means challenging convention – especially if that's what it takes to help our customers and the sailing industry get to new, better places. As a company and as individuals, we embrace every single challenge you bring our way as our own. Since 1996, we have focused on providing the best-performing products in sailing. Today, we're equally relentless about delivering a higher standard of service, customer care, education, support and mentorship. It's how we'll continue to help sailors at all levels pursue their passions and achieve their aspirations. Our commitment starts with our dedicated employees at more than 70 sail lofts around the world and includes hundreds more working behind the scenes to design, build and service Quantum® sails. Visit: www.quantumsails.com
Text Credit: Luissa Smith
Photo Credits: Hannah Lee Noll