Jack Jennings (USA) and Pedro Trouche (BRA) Claim the Win on Day 3 at 95th Bacardi Cup
FOR IMMEDIATE RELEASE
Mateusz Kusznierewicz/Bruno Prada hold onto the series lead but not the race win on day 3 at the 95th Bacardi Cup.
Spectacular conditions guaranteed a day of hiking and downwind fun for the fifty-eight boat Star Class fleet. After two days of domination by defending Bacardi Cup Champions Kusznierewicz/Prada, today saw new faces accelerate to front of fleet racing.

Biscayne Bay is always a race track that rewards confidence and switching on their afterburners to manage the fleet skilfully and break away to race glory were Jack Jennings (USA) and Pedro Trouche (BRA). They made their assault from the outset, sailing a perfect race to catch the leaders in a decisive move at the end of the first downwind, set the pace back upwind and surge ahead to victory.

Registration is completed for the J/70, Melges 24, Viper 640, VX One and 69F Classes who join the melting point of kindred spirits for the next three days of racing and renowned Bacardi hospitality.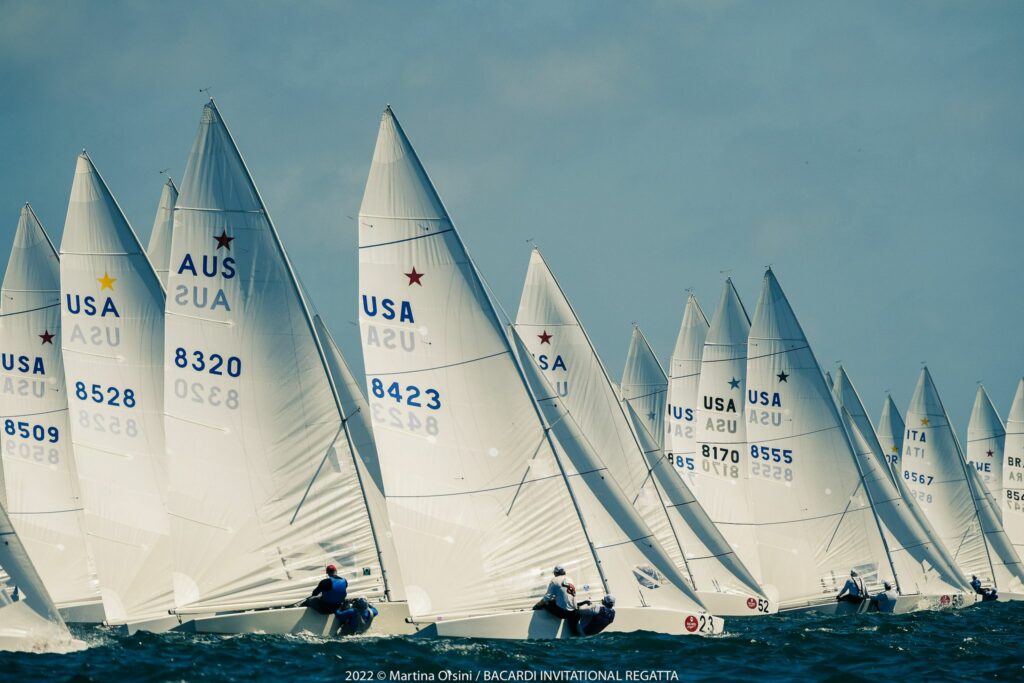 New Faces out Front
The fleet were evenly spread along the race 3 starting line and up the first windward leg with no favoured side.

Sailing together for the first time, Great Britain's Ed Wright and Italy's Alberto Ambrosini gave the fleet the early run for their money. The team had a good start, although a bit behind the boats around which worked to their advantage, as they were in a position to tack off to port. They sailed the lift until they got knocked and headed into the windward mark covering the fleet from the right.

Wright/Ambrosini continued their form downwind, opting left to drive fast through the fantastic waves and surfing conditions. But when they switched to the right, their lead unravelled.

After an exciting gate rounding, Jack Jennings/Pedro Trouche sailed strong upwind, dictating the leader board shuffle as they approached the windward mark for the second time. The pair managed to pick their spots to tack into a clear lane and manoeuvred to the right of Wright/Ambrosini to take the lead, with 2019 Bacardi Cup champions Eric Doyle/Payson Infelise chasing.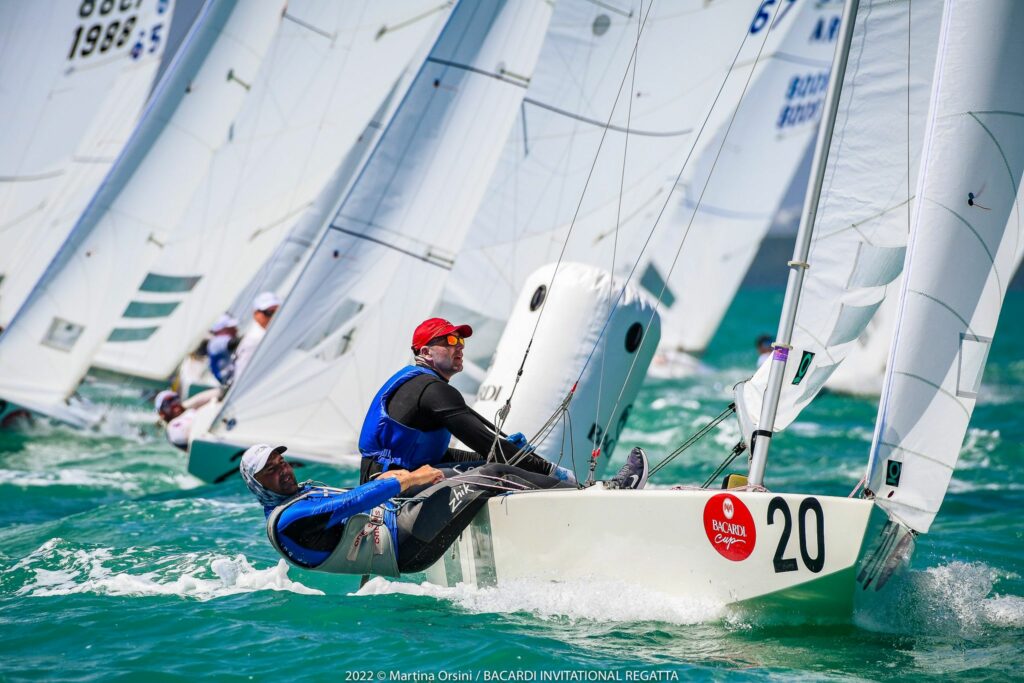 Rounding the windward mark, Wright/Ambrosini were in a tussle with 2018 Bacardi Cup winners Diego Negri/Sergio Lambertenghi who came in on port tack, with Kusznierewicz/Prada in 5th. Paul Cayard/Frithjof Kleen followed, with the O'Leary brothers and Jørgen Schönherr/Markus Koy neck and neck, and Eivind Melleby/Joshua Revkin close behind.

A strong bounce back from Schönherr/Koy, who were off the track yesterday due to Jørgen's broken foot, as they target an upgrade on their partnership's 8th place finish from 2020. Koy finished 3rd at the 2021 Bacardi Cup with Augie Diaz (USA).

Heading back downwind, the pressure remained consistent across the course, with plenty of wave action to accelerate the gains to Jennings/Trouche. An impressive passage of play from Kusznierewicz/Prada, who clawed back from around 5th at the final leeward gate to finish in 2nd, with Doyle/Infelise finishing 3rd. A 4th place finish to reigning Star World Champion Negri with crew Lambertenghi advances them to leader board 3rd, knocking the O'Learys down to 4th.
Jennings/Trouche are racing only their fifth event together, and their win advances them two places up the leader board to 7th overall.

"For sure we had a lot of fun surfing, sailing by the lee sometimes, playing with different modes," explained Trouche, who won the 2018 Star Sailors League Finals. "Our talking was way better today on the downwind, so we had some gains on the first downwind. I am super happy. A champagne day in Biscayne Bay!"

"I think the key was to just keep doing the little things the right way," smiled Jennings, "like getting a good start, which we have had the last two days, and then working on our downwind mode a little bit and also working on our communication. So more important than the result is, I think, we made an improvement in all those areas and we sailed the boat well from the beginning to the end.

"There are so many great champions here that it is always nice to have a good result. A lot of it is due to Pedro's good hiking, our teamwork off the line and to have the boat in the right mode and keep our lane."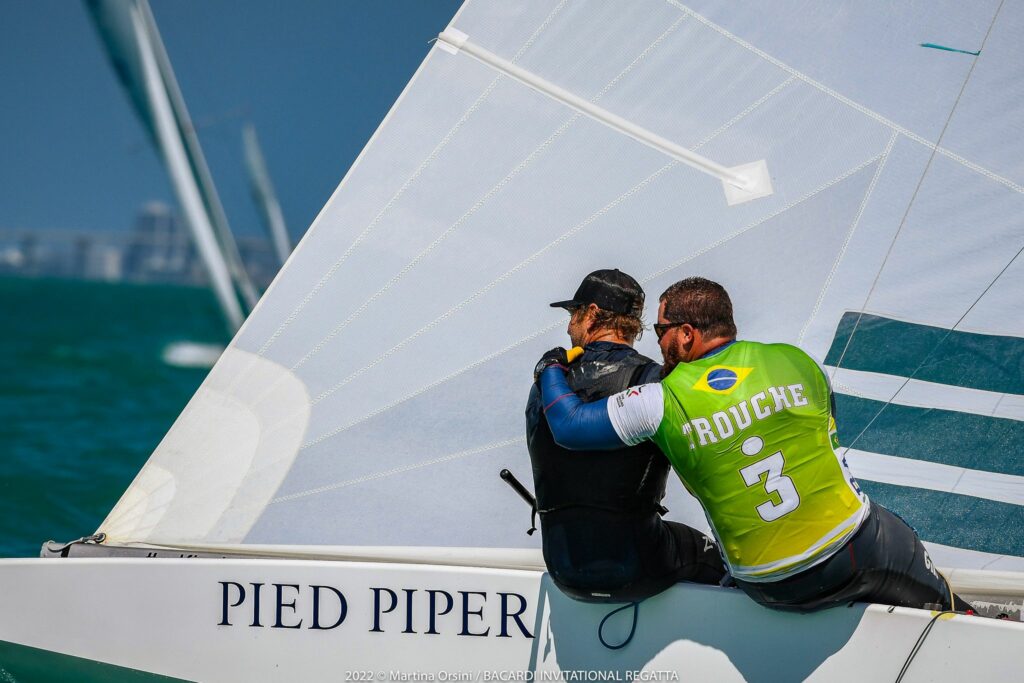 From pole position, Wright/Ambrosini lost their pace to finish the race in 7th. The pair only partnered up after their respective skippers were unable to compete. Progress has been steady, with an improving scorecard of 18, 11 and 7. For Wright, their front of fleet territory matches his pedigree, having previously stepped onto the Finn Gold Cup podium six times, including gold in 2018.

On pressing the accelerator, Wright said, "From the first day to now, we are sailing the boat much differently. We are driving the boat a lot faster and really trying to power it up instead of pinching, and that made a huge difference with our boat speed."

Eivind Melleby/Joshua Revkin finished 5th to hold their leader board 5th, with Cayard/Kleen finishing 6th in the race and on the leader board. Cayard first competed at the Bacardi Cup forty-two years ago crewing for Tom Blackaller. He has raced many times since, but is yet to taste victory.

"I've never won the Bacardi Cup", declared Cayard. "I've been second many times, so it would be nice to win! We have a lot of great competition here, I think there must be 10 world championships racing, so when you're in the top 10 in the races it's tough".

On their new partnership, Cayard said, "We are working on the speed and the set-up of the boat, so just trying to keep improving and if we do I think the result will be good. Frithjof is the current World Champion crew and I have a lot of experience, he is young and I'm a little older so I think we have a good mix of experience and youth and physical capability".

Reflecting on the event history, Cayard added, "The Bacardi Cup is like the Star Class. The two brands have been together for 95 years, in Cuba first and then here in Miami. They are both brands that represent excellence in a sector and respect tradition and so the fusion of these two brands is what makes the Bacardi Cup special. So, it is quite an honor just to be participating."
As always, the challenge for Bacardi Cup victory is as tough today as the first event hosted in Cuba back in 1927.
Provisional Top 10 Results – after Race 3
1. Mateusz Kusznierewicz / Bruno Prada (POL 8548) – 4 pts
2. Eric Doyle / Payson Infelise (USA 8423) – 8 pts
3. Diego Negri / Sergio Lambertenghi (ITA 8567) – 12 pts
4. Peter O'Leary / Robert O'Leary (IRL 8465) – 14 pts
5. Eivind Melleby / Joshua Revkin (NOR 8543) – 18 pts
6. Paul Cayard / Frithjof Kleen (USA 1988) – 22 pts
7. Jack Jennings / Pedro Trouche (USA 8464) – 23 pts
8. Augie Diaz / Christian Nehammer (USA 8509) – 27 pts
9. Erik Lidecis / Greg Smith (USA 8459) – 35 pts
10. Ed Wright / Alberto Ambrosini (AUS 8320) – 36 pts
This evening, the mid-week cocktail party and social is hosted at Shake-a-Leg Miami
A special thank you to this year's event sponsors and supporters:
Bacardi USA, EFG International, Quantum Sails, Nautical Ventures, Fever Tree, Shake a Leg Miami, Sail 22, Pro Coach Boats, HATUEY®Beer, Tuuci, Termodinamica USA, Coconut Grove Business District, Harken Derm, Team 1 Newport and Hobie.
Text Credit: Luissa Smith
Photo Credits: Martina Orsini

Follow all the action:
Entry list
Full results
Event Website
Facebook
Instagram
YouTube

Media Information: A full media package will deliver daily video highlights, race reports and photo galleries, online and via worldwide distribution, alongside full social media coverage. Media enquiries should be sent to [email protected]. Please register for Media Accreditation. For access to daily press releases click here. For access to daily photos and videos go to our Multimedia Page.
Thank you as always to our host clubs, Coral Reef Yacht Club, Coconut Grove Sailing Club, Shake a Leg Miami and the US Sailing Center, the Coconut Grove Business District and Dinner Key Marina for their support.
Notes to Editors –
About Bacardi U.S.A., Inc.: Bacardi U.S.A. Inc. is the United States import and distribution arm of family-owned Bacardi Limited, the largest privately held spirits company in the world. The company boasts a portfolio of some of the most recognized and top-selling spirits brands in the United States including BACARDÍ® rum, PATRÓN® tequila, GREY GOOSE® vodka, DEWAR'S® Blended Scotch Whisky, BOMBAY SAPPHIRE® gin, CAZADORES® 100% blue agave tequila, MARTINI vermouth and sparkling wines, the world's leading vermouth and the world's favorite Italian sparkling wines, and other leading and emerging brands. Founded more than 158 years ago in Santiago de Cuba, Bacardi Limited currently employs more than 7,000, operates more than 20 production facilities in 11 countries, and sells its brands in more than 170 countries. Bacardi Limited refers to the Bacardi group of companies, including Bacardi International Limited. Visit www.bacardilimited.com or follow us on Twitter @BacardiLimited or Instagram @BacardiLimited1862. Enjoy Responsibly. BACARDÍ, its label, its bottle design and the Bat Device are trademarks and/or registered trademarks of Bacardi & Company Limited. © 2022 ALL RIGHTS RESERVED. Visit: www.bacardi.com

About EFG: EFG International is a global private banking group offering wealth management and asset management services. It operates in around 40 locations worldwide. EFG International operates in Miami through its subsidiaries EFG Capital, which provides its customers with investment and brokerage related financial services, and EFG Asset Management, which crafts financial advice for private clients seeking portfolio management and multi-family office services. Visit: www.efginternational.com
About Quantum: At Quantum, we're connected to sailors everywhere through our love of sailing and our belief that facing every challenge head-on is infinitely rewarding. Since 1996, we have focused on providing the best-performing products in sailing. Today, we're equally relentless about delivering a higher standard of service, customer care, education, support and mentorship. Visit: www.quantumsails.com
About Nautical Ventures: Nautical Ventures offers top quality water sports products and support along with a highly trained, experienced, caring staff. We provide and promote adventurous fun and healthy lifestyle options to the general public, families, businesses and resorts in sunny South Florida. Visit: www.nauticalventures.com
About Fever-Tree: Founded in 2005, Fever-Tree is the leading premium line of carbonated mixers. It procures the world's finest ingredients from natural sources. The Fever-Tree range is designed to complement and enhance a range of premium spirits and with its high quality and naturally sourced ingredients is the perfect accompaniment to any drinking occasion. Visit: www.fever-tree.com