MATEUSZ KUSZNIEREWICZ/BRUNO PRADA ARE ADDICTED TO WINNING THE BACARDI CUP
Miami, USA
The never-ending pursuit of excellence was all apparent on the final day of racing at the 96th Bacardi Cup and Bacardi Invitational Regatta. Biscayne Bay delivered another stunning day, with an offshore breeze changing the race track strategy.

They came, they saw, they conquered in 2020, 2021 and 2022, and this year Mateusz Kusznierewicz/Bruno Prada did it again. They have well and truly sealed their place in the Bacardi Cup book of legends with four back-to-back victories.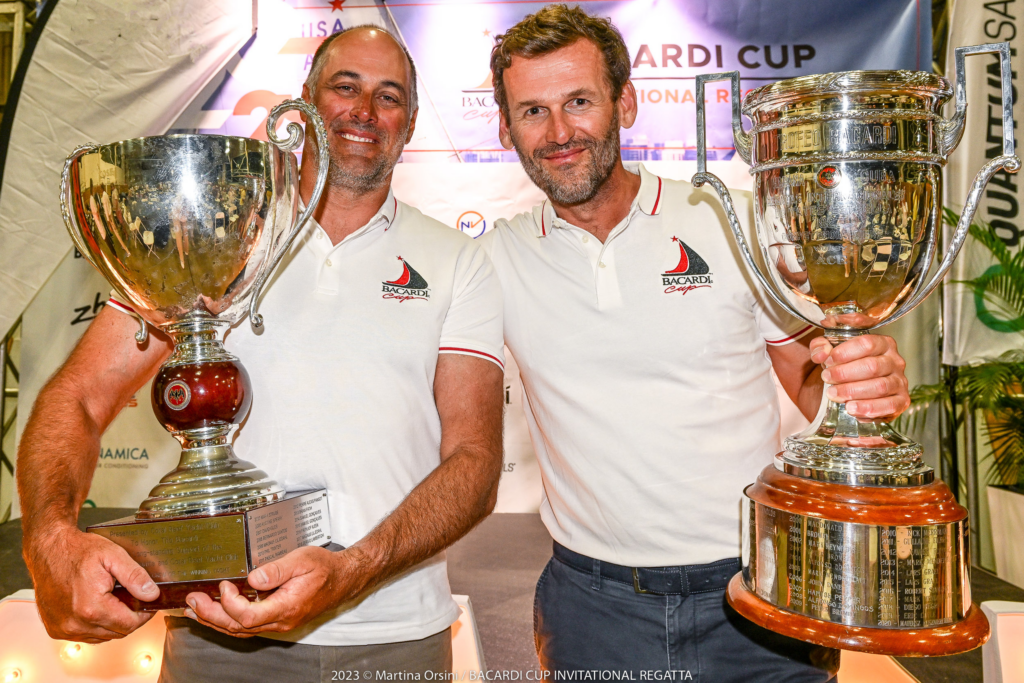 A race apiece in the Melges 24 and J/70, saw Peter Duncan's 'Raza Mixta' take the race win and upgrade to overall victory, whilst a 4th place was all that was needed for Brian Keane's 'Savasana' to take top spot in the J/70.

No change in the VX One and Melges 15, as the overnight leaders held firm. In the 69F, Flying Nikka 47 had control of the race track from start to finish, winning all but one race.

"As a Bacardi family member, I am extremely proud of where we are with the Bacardi Cup and Bacardi Invitational Regatta," said Eddie Cutillas, Bacardi USA. "We have had an outstanding event with a record line-up of entries and teams from twenty-seven nations. I could not be prouder of the effort we have put in to get this regatta to where it is."

Save the date for next year and come sail with us from March 3-9, 2024.

Star Class
It all came down to the final race in the battle for the 96th Bacardi Cup, with eight teams theoretically in the running for the trophies. After two general recalls, the elite of Star sailing embarked on a 5-leg race.

Hans Spitzauer/Christian Nehammer led to the first mark, but with series frontrunners close behind they were off podium contention. Kusznierewicz/Prada thought they had a disadvantage by choosing the left side, but it played out well as they rounded in third.

From early, it was evident huge disappointment was on the cards for Peter O'Leary/Stephen Milne, who led going into the final day. After finishing the Bacardi Cup in 2nd place three times, they dreamed 2023 would be their year. They started on the right side of the course but couldn't execute their plan and slowly slipped through the pack to finish in 20th and end their Bacardi Cup in fourth overall.

Kusznierewicz/Prada reeled in Spitzauer/Nehammer to go for the win. Rounding the final upwind mark, they had a 30 second advantage, extending even further to the leeward mark. The other teams could only battle it out for second and third.

Their passion for a perfect mission was precisely executed, and by the finish Kusznierewicz/Prada secured over a one-minute lead to win the 96th Bacardi Cup. The duo made history last year as the first ever same-crew team to win three consecutive times and are now back in the history books with their fourth successive win. No skipper or crew has ever achieved that.
"Sometimes I am thinking how much longer we can go," grinned Kusznierewicz. "But I must say at the beginning it is a great fun, pleasure but also an honour to sail with Bruno. Unbelievable how I enjoy the week spent together. Thanks Bruno."

"The week was a tough one. Mateusz started the week a little bit sick, we had the 'old man's funeral," said Prada, in reference to the passing of Gonzalo Diaz, a renowned sailing personality and father of Augie Diaz. "It was tough to have our minds focused on the regatta, but we were able to manage all these outside odds and still we are super happy."

"It was the toughest win out of the four," continued Kusznierewicz. "The level of the competition was very high, and the five top teams were sailing just brilliantly. They played strategy and tactics very well. This time we had to fight to the end, but I like it."

Whilst appreciating their momentous achievement, Prada had another motivation to win, rivalry with an old friend, saying, "For me the only important thing is to be ahead of the best crew in the world, that's Frithjof. Once I am ahead of him, I am happy! I am not worried about records, if I am ahead of the best."

"I know that he really likes the winning," chipped in Kusznierewicz. "The race when we finished 21, Bruno was so angry. He is addicted to winning. I say, 'let's have some fun', and he says, 'you know how I spell fun, W-I-N'! This is good, this is what I like, because we are athletes. We really enjoy sailing and competition."

They have already confirmed they will return in 2024, with Kusznierewicz affirming, "Once you have Bacardi, you want to have it more."

A meticulous performance from Kusznierewicz/Prada who celebrated their remarkable achievement by sipping Bacardi rum from the iconic Bacardi Cup and Tito Bacardi Cup trophies at the prize giving to huge applause.

In paying tribute, Eddie Cutillas said, "Last year, you made history as the first same team crew to ever achieve three back-to-back wins. Whilst there had been skippers who had won three times in a row and crew who had won three times in a row, never had the same skipper and crew won three times in a row."

"This year, you go one better and become the first skipper or crew to ever win four times in a row in the ninety-six-year history of the Bacardi Cup. Simply phenomenal. I don't want to predict the future of the Bacardi Cup, but it is going to be a long time before anyone will ever have a chance at breaking your record," Cutillas concluded.

As custodians of the Bacardi Cup for four years, the legacy secured by Kusznierewicz/Prada will be hard to beat. However, the quest for dominance and ambition to be part of the rich heritage of the Bacardi Cup will continue.

A sixth-place finish for Eivind Melleby/Mark Strube upgraded them to second overall, and Eric Doyle/Payson Infelise crossed the line in 3rd to leapfrog from leader board fifth to third.

Star Final Results – Top 5
1. Mateusz Kusznierewicz/Bruno Prada (POL) – 15 pts
2. Eivind Melleby/Mark Strube (NOR) – 21 pts
3. Eric Doyle/Payson Infelise (USA) – 26 pts

Prizes were presented to the top five and to winners in the age divisions:
U30 (skipper under 30) – Matthew Rajacich/Eric Wagner
Master (skippers aged 50 through 59) – Eivind Melleby/Mark Strube
Grand Master (skippers aged 60+) – Paul Cayard/Frithjof Kleen
Exalted Grand Master (skippers aged 70+) – Larry Whipple/Killian Weise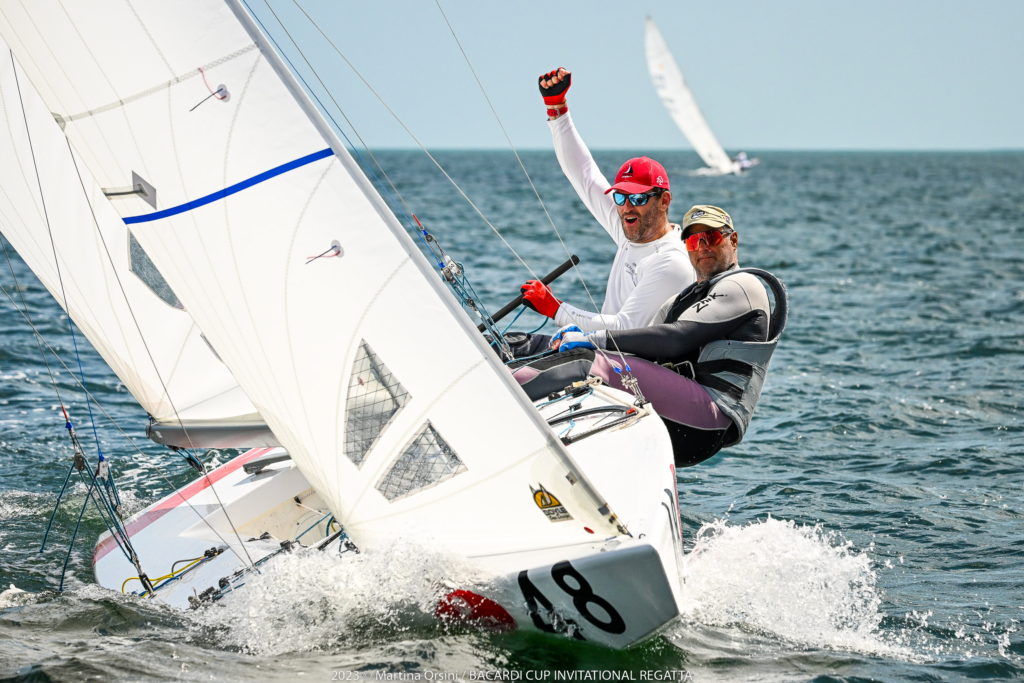 Melges 24
With just one point separating the top two boats going into the final race, the stage was set for either 'Pacific Yankee' or 'Raza Mixta' to win.
 
Peter Duncan's 'Raza Mixta', who was on a one-point deficit to 'Pacific Yankee', opted for a mid-line start and accelerated up the left side of the track to hold the advantage at the first mark. A shock performance for Drew Freides' 'Pacific Yankee', who found themselves languishing 4th to last at the first mark, and facing what proved an impossible task to make up lost ground.
 
Whilst 'Raza Mixta' went on to take the win, 'Pacific Yankee' did manage to claw through to finish in 14th and consoled themselves with second overall. Safe racing from Brian Porter's team on 'Full Throttle' saw them safely hold on to third overall.
 
Speaking on their win, tactician Victor Diaz de Leon, laughingly said, "We had really good team chemistry and sailed very well the first day, well the second day and very well the third day! We made it happen and we are very happy. We had different conditions with the onshore breeze the first two days and we finished with the offshore breeze. It was shifty.
 
"Today our goal was to sail safe and sail clean and not worry about other boats. In an offshore breeze it is very hard to cover people and you often have to sail forward in order to do well. It worked. It was a good strategy."
 
On the thrill winning, Diaz de Leon, commented, "There are a lot of great teams here and we respect all of them. We are very excited to get the win because it is such a tough fleet. We love this event because of the camaraderie, the organisers put up a great party and it is a lot of fun.
 
"I think the biggest secret for our team is how much fun we have together and that helps our performance. The guys did amazing, they hiked so hard all week, and Peter drove very well. We had a great vibe onboard."
 
Melges 24 Final Results – Top 5
1. Peter Duncan/Victor Diaz de Leon/Patrick Wilson/Morgan Trubovich/Erik Shampain (USA) – 16 pts
2. Drew Freides/Nic Asher/Charlie Smythe/Alec Anderson/Mark Ivey (USA) – 25 pts
3. Brian Porter/RJ Porter/Bri Porter/Matt Woodworth (USA) – 28 pts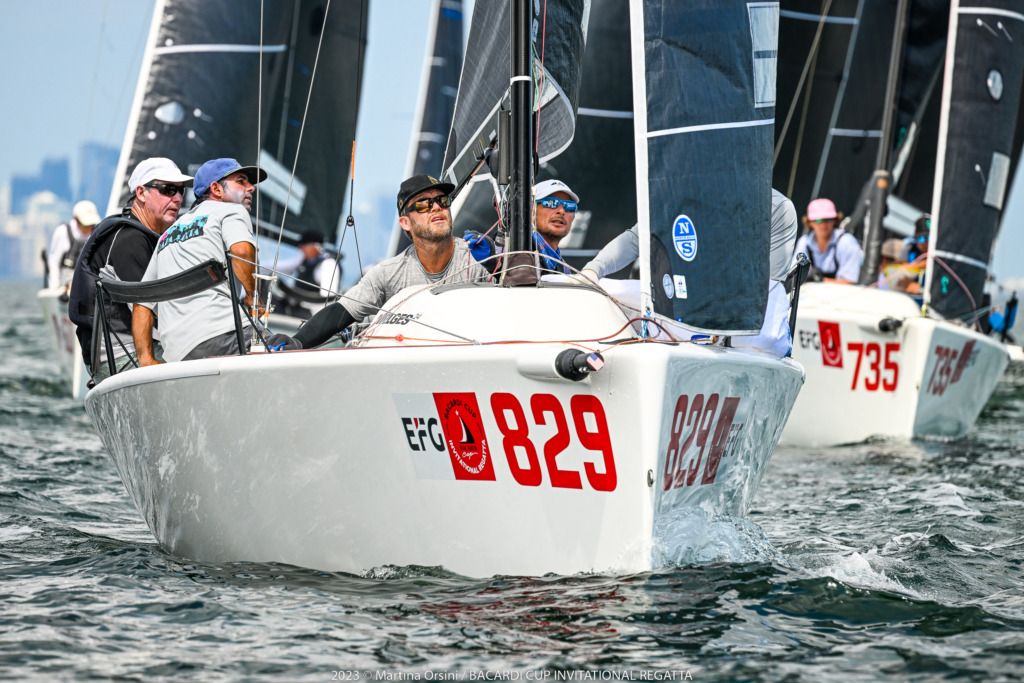 J/70
Heading out to the race track, teams were anticipating two or three races, but it all came down to a one race showdown. Going into the deciding race, there were just 6 points separating the top three boats, so the podium places were open to them all.
 
The battle was being decided with an ever-present attack unfolding between Brian Keane's 'Savasana', Bruce Golison's 'Midlife Crisis' and John Heaton's 'Empeiria' and by the finish the three teams were overlapped crossing the line.
 
In super close racing, 'Midlife Crisis' finished third, fourth to 'Savasana' and fifth to 'Empeiria', to give 'Savasana' the regatta win. After a slow opening day, 'Savasana' had switched focus and Keane secured his second win, the first being in 2013.
 
Keane commented, "The Bacardi Cup is always the peak of the winter and great competition. It was a good week actually, a really good week for us. We're pretty stoked. We didn't start so great on Thursday, as we had one tough race. Yesterday the team was on top of its game. It was very shifty, and we were able to nail a bunch of the shifts in the velocity."
 
On the reasons for their success, Keane concluded, "We are talking all the time. There is a lot of interplay and I think the team did a great job. Communication, adjustments and staying calm.
 
"This is one of the best regattas of the year. Bacardi does a really good job; they always do a good job."
 
Whilst the top three teams did battle, Charlie Thompson's 'Brutus III' continued their remarkable comeback from two BFD penalties to take the race win and finish their series inside the top ten, in 9th overall.
 
J/70 Final Results – Top 5
1. Brian Keane/Connor Harding/Thomas Barrows/Ron Weed (USA) – 19 pts
2. Bruce Golison/Morgan Reeser/Chris Stocke/Jeff Reynolds (USA) – 21 pts
3. John Heaton/Will Felder/Zeke Horowitz/Zachary Mason (USA) – 22 pts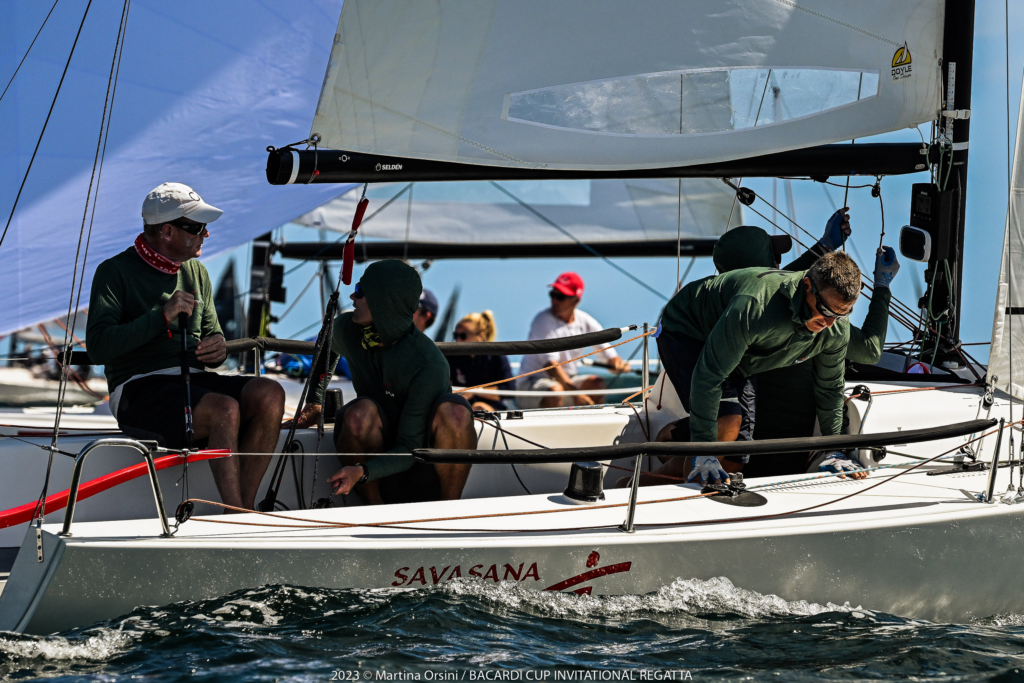 VX One
Two races for the VX One were never going to unseat series leaders Christopher Alexander/Grace Howie/Ricky Welch. They let others take the race glory, and despite starting the final race 9 opted not to finish as they didn't need to.
 
Behind it was a different matter with plenty of teams able to advance to the podium. A 4,1,2 scorecard rewarded John Porter/Sam Kerner with a jump up to second overall. Victor Bloede/Brian Shores raced their best day to finish 2,2,5 and outsail Jono Shelley/Benji Shelley who fell off the podium.
 
VX One Final Results – Top 5
1. Christopher Alexander/Grace Howie/Ricky Welch (USA) – 17 pts
2. John Porter/Sam Kerner (USA) – 35 pts
3. Victor Bloede/Brian Shores (GBR) – 40 pts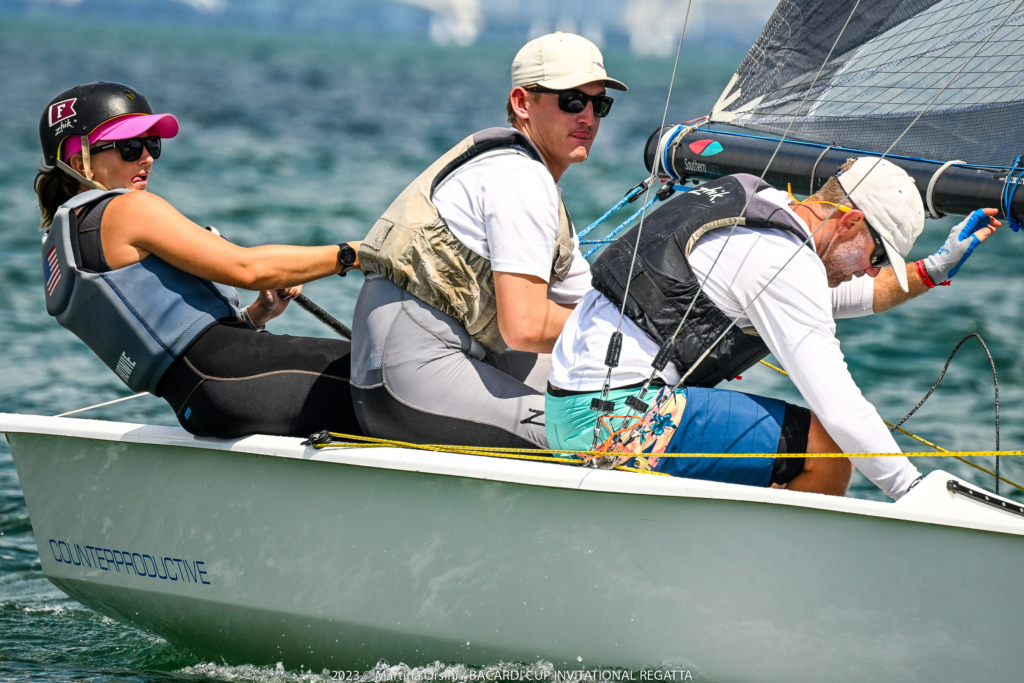 Melges 15
No change in the top two Melges 15 teams after today's three races. Rob Britts/Jillian Aydelotte were relentless, knocking out another win to make it five in total and bag top spot. Pamela Rose/Kathleen Tocke pushed hard and despite claiming two race wins, were left two points adrift in second overall.
 
Rich Horton/Amanda Horton upgraded to third.
 
Melges 15 Final Results – Top 5
1. Rob Britts/Jillian Aydelotte (USA) – 11 pts
2. Pamela Rose/Kathleen Tocke (USA) – 13 pts
3. Rich Horton/Amanda Horton (USA) – 24 pts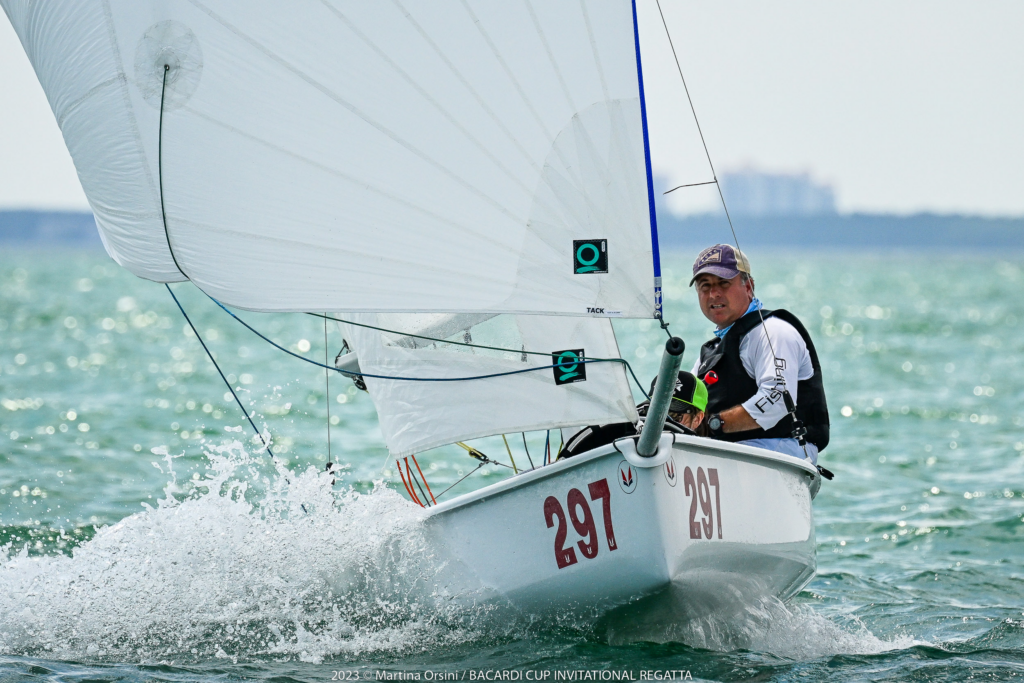 69F
Marginal planing conditions for the four 69F races meant the best teams would be those who transitioned the best between displacement mode and foiling mode.
 
Enrico Zennaro/Federico Colaninno/Lorenzo Bressani on Flying Nikka 47 let go of their hold on the race wins today, with America Magic 3 the only other team to score a bullet. But it was not enough to put them on the podium.
 
Speaking after their win, Paris Henken, who represented the USA in the 49erFX at the Rio 2016 Olympics, said, "It was kind of unexpected because we weren't winning right off the start line. But stayed in some pressure that no-one else had and from there it was really easy to stay ahead because you were able to fleet manage a little better in the front.
 
"We were also able to not make so many mistakes. A lot of times these boats are super finicky when it comes to the rigging, so we were able to make sure everything was running smoothly and we ended up winning."
 
69F Final Results – Top 5
1. Flying Nikka 47 – 427.5 pts
2. Flying Nikka 74 – 384 pts
3. NYYC A Magic 2 – 368 pts