Mateusz Kusznierewicz / Bruno Prada nailed their game plan and opening race win on day 1 At 95th Bacardi Cup
FOR IMMEDIATE RELEASE
Two-time Bacardi Cup Champions, 2020 and 2021, Mateusz Kusznierewicz (POL) and Bruno Prada (USA) controlled the opening day of racing in Biscayne Bay, Miami.
An epic line-up of fifty-eight Star Class teams kicked off racing at the 95th Bacardi Cup under a picture-perfect blue sky dotted with clouds, breeze of around 14-16 knots and choppy seas. The week ahead is looking equally stunning, with a cracking mid-teens breeze forecast through until the end of racing on Saturday, March 12.
"We have a beautiful week set up for weather and parties," smiled Mark Pincus, Regatta Chair. "It gives us great pleasure to be able to have everybody here again and to be able to do the regatta and the week the way we normally do. We are so happy to have over 500 sailors for the week and all of our Star sailors back again that we haven't seen in a couple of years.
 
"The weather is going to be phenomenal this week. There should be some great times out on the water with a great week of races and competition that we have been missing over the last couple of years. Year in year out, everyone wants to come back and sail Bacardi because they have so much fun as well as great competition."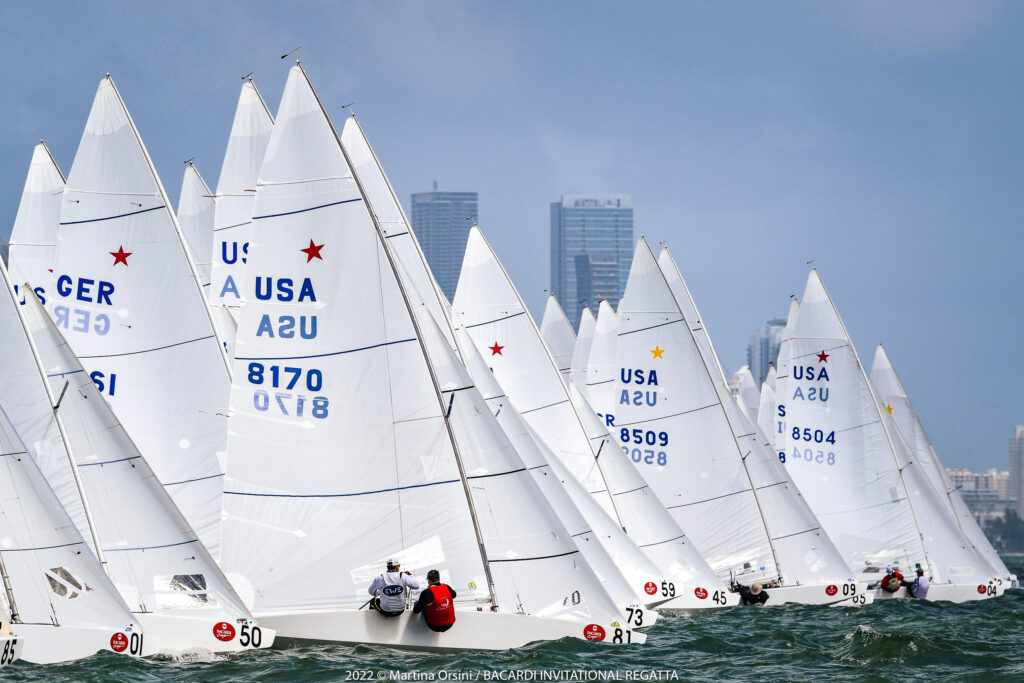 Thrilling Opening Day
As always, the Star fleet featured plenty of World Champions, identified by the distinction of a gold mainsail logo, along with Olympians and legends of the Star Class in this high stakes battle for Bacardi Cup supremacy. 
A clean start got racing underway at midday, wrapping up one hour and 45 minutes later with the win in the hands of the defending Bacardi Cup partnership of Mateusz Kusznierewicz (POL), 2-time Star Class World Champion (2019, 2008), and four-time Star World Champion (2019, 2012, 2011, 2007) Bruno Prada (BRA).
 
"I am honored to be here on the 95th anniversary of the Bacardi Cup," said Kusznierewicz. "We had a plan from the beginning to play upwind on the left side, because of the wind pattern but also the current. We knew that maybe on the beginning it would not look very good for us, but we had to be patient and then coming to the left side it will start to pay off and it did."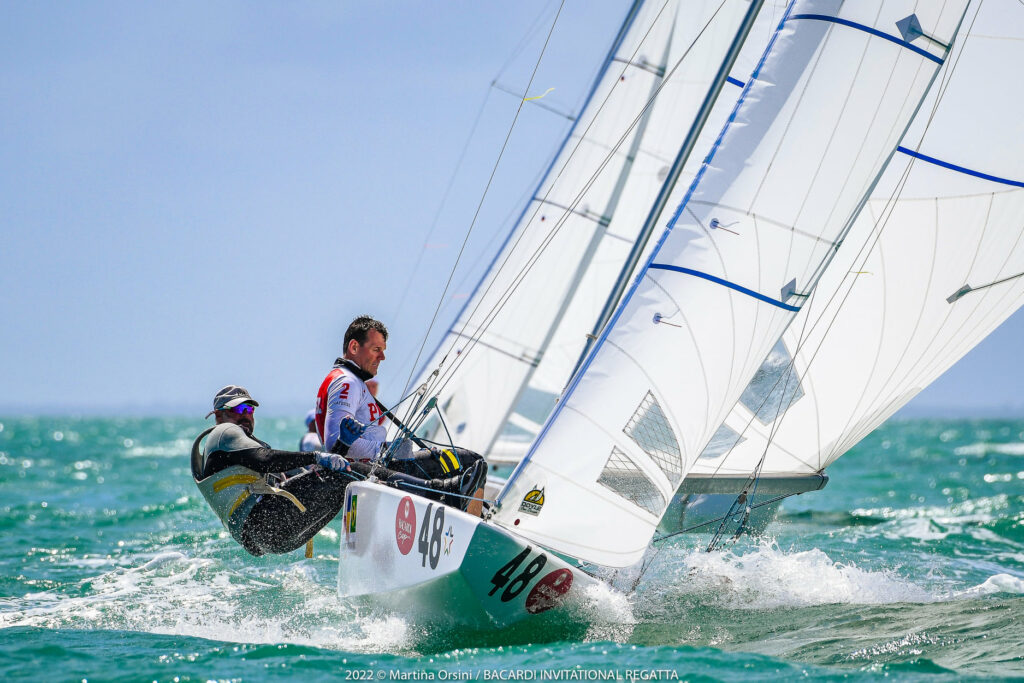 From 7th place at the first mark, the pair accelerated to close the gap, as Kusznierewicz joked, "We pushed a special button in our boat, we got superpowers, especially on the reaches we were performing very well and that gave us the lead."

It didn't start that way, as controlling the fleet for the first two legs were the California based partnership of Erik Lidecis/Greg Smith, with Lidecis saying, "We had a really nice lane and just chugged out to the left for a while, held it as long as we could, got a little leftie, tacked on it and went across the fleet, which was beautiful."

Lidecis/Smith stayed in phase to round the windward mark first and hold their advantage to the reaching mark, before all change. The easing conditions saw the crews mostly back in the boat for the reaching legs as submarining was inevitable if too far forward, with plenty of action as crews were in and out of the boat to keep on the chine in the lulls and puffs.

"The wind was super challenging because it was a good wind, a strong wind," reflected Bruno Prada, who is racing his sixteenth Bacardi Cup, "but especially on the downwind reaches it was a little bit less wind, so the crew movement in the boat – forward and backwards, leeward and windward – trying to balance the boat was super challenging, trying to keep the boat with a lot of power, especially releasing the back stays. There were a lot of little details that I think was our success.
 "We never think about winning regattas, we think day by day, enjoying day by day and then if in the end if we do a good average, we have a good chance to win."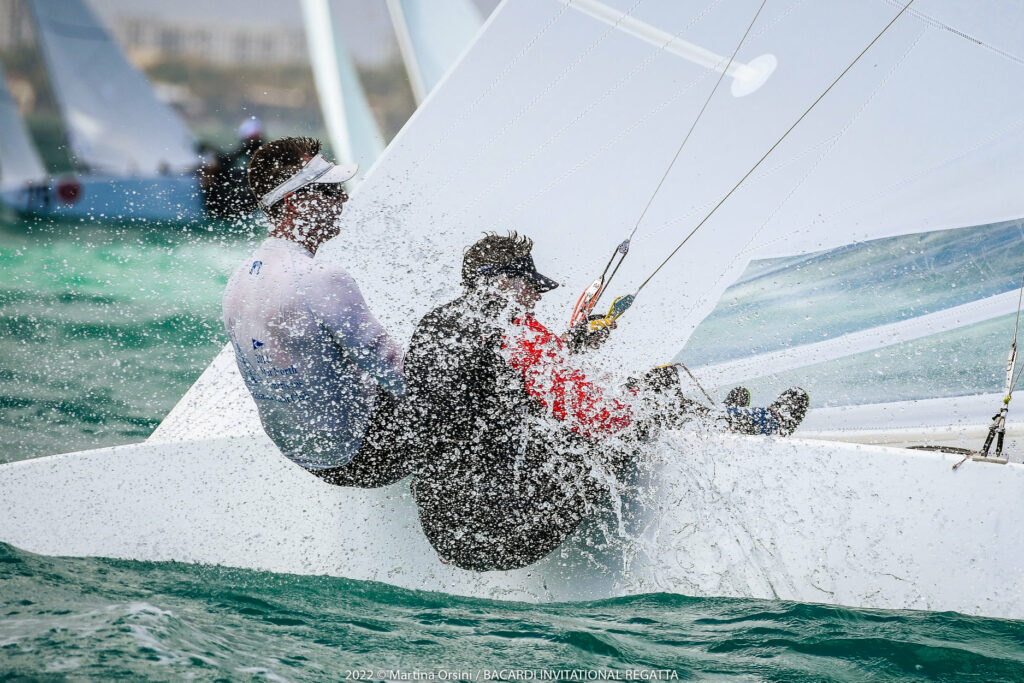 Kusznierewicz/Prada set their pole and made some gains on the first reaching leg. They had the capacity to capitalize and went low on the next leg to advance underneath the fleet, before going high in the closing metres to the gybe mark, boosting their boat speed to exploit an opening and get around everybody to take the lead into the second upwind.
 
As the breeze dropped to around 12-13 knots, the Race Committee changed the second lap to a downwind course format. Behind the leaders, the fleet consolidated on the next downwind and played the right side of the course more on the third and final upwind. 
 
Whilst Kusznierewicz /Prada oozed class to extend and take the race win, thrilling tacking duels unfolded for 2nd between Peter O'Leary/Robert O'Leary and Eric Doyle/Payson Infelise, with Diego Negri/Sergio Lambertenghi and John MacCausland/Rodrigo Meireles battling for 4th and 5th place.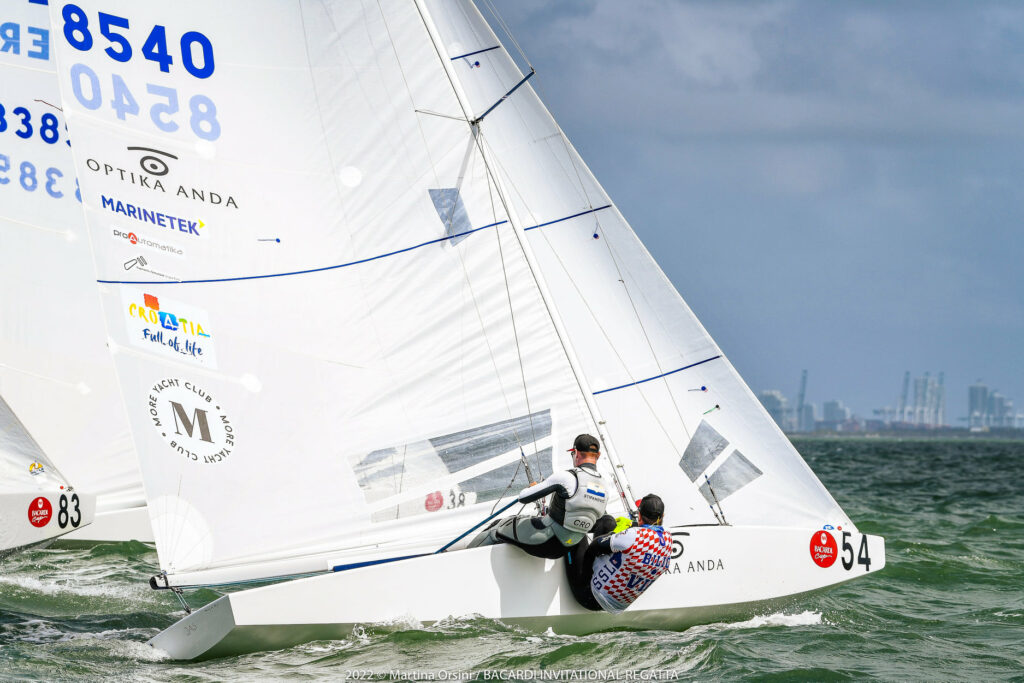 Two-time Star Class Olympian (2008 and 2012) Peter O'Leary, who is racing with his brother Robert, was stoked to come out on top of their duel and claim second. Last time racing at the Bacardi Cup in 2020, the pair finished 6thoverall. 
 
"I guess if you didn't like today, you are never going to like Star sailing!" laughed Peter. "It was good to be back in the boat after two years. We ended up reaching on the first lap and that's a fun thing to do in the Star."
 
Robert chipped in, saying, "We've done a good bit of training reaching, but I've never actually raced a reaching course, so it was a bit of a shock to the system trying to decide whether jib on pole or not. We did it for the first leg and it definitely paid, and then the second leg we were just trying to defend, keep our lane, keep the air clear going down. We got inside three boats at the gybe mark."
 
An impressive passage of play from Paul Cayard/Fritjof Kleen whose broken outhaul a couple of minutes before the start left them slumped mid-fleet at the first mark, before getting back on pace to finish in 10th.
Post-race, Bacardi hosted Star sailors and the Race Committee at the Bacardi Building, Coral Gables, in a celebration of the partnership and legacy between the Bacardi Cup and the Star Class.

Race 2 is scheduled to start at 1200 hours on Tuesday, March 8.

Provisional Top 10 Results – after Race 1
1. Mateusz Kusznierewicz / Bruno Prada (POL 8548) – 1 pts
2. Peter O'Leary / Robert O'Leary (IRL 8465) – 2 pts
3. Eric Doyle / Payson Infelise (USA 8423) – 3 pts
4. Diego Negri / Sergio Lambertenghi (ITA 8567) – 4 pts
5. John MacCausland / Rodrigo Meireles (USA 8448) – 5 pts
6. Eivind Melleby / Joshua Revkin (NOR 8543) – 6 pts
7. Erik Lidecis / Greg Smith (USA 8459) – 7 pts
8. Peter Vessella / Phil Trinter (USA 8573) – 8 pts
9. Tonci Stipanovic / Tudor Bilic (CRO 8540) – 9 pts
10. Paul Cayard / Frithjof Kleen (USA 1988) – 10 pts

The perpetual Bacardi Cup Trophy will be awarded to the first placed skipper and the Tito Bacardi Cup to the first placed crew, with prizes also presented to winners in the Master's (skippers aged 50 through 59), Grand Masters (skippers aged 60 and above), Exalted Grand Masters (skippers aged 70 and above) and the Tammy Rubin-Rice Trophy will be presented to the highest placed team not otherwise receiving a prize.
A special thank you to this year's event sponsors and supporters:
Bacardi USA, EFG International, Quantum Sails, Nautical Ventures, Fever Tree, Shake a Leg Miami, Sail 22, Pro Coach Boats, HATUEY®Beer, Tuuci, Termodinamica USA, Coconut Grove Business District, Harken Derm, Team 1 Newport and Hobie.
Text Credit: Luissa Smith
Photo Credits: Martina Orsini

Follow all the action:
Entry list
Full results
Event Website
Facebook
Instagram
YouTube

Media Information: A full media package will deliver daily video highlights, race reports and photo galleries, online and via worldwide distribution, alongside full social media coverage. Media enquiries should be sent to [email protected]. Please register for Media Accreditation. For access to daily press releases click here. For access to daily photos and videos go to our Multimedia Page.
Thank you as always to our host clubs, Coral Reef Yacht Club, Coconut Grove Sailing Club, Shake a Leg Miami and the US Sailing Center, the Coconut Grove Business District and Dinner Key Marina for their support.
Notes to Editors –
About Bacardi U.S.A., Inc.: Bacardi U.S.A. Inc. is the United States import and distribution arm of family-owned Bacardi Limited, the largest privately held spirits company in the world. The company boasts a portfolio of some of the most recognized and top-selling spirits brands in the United States including BACARDÍ® rum, PATRÓN® tequila, GREY GOOSE® vodka, DEWAR'S® Blended Scotch Whisky, BOMBAY SAPPHIRE® gin, CAZADORES® 100% blue agave tequila, MARTINI vermouth and sparkling wines, the world's leading vermouth and the world's favorite Italian sparkling wines, and other leading and emerging brands. Founded more than 158 years ago in Santiago de Cuba, Bacardi Limited currently employs more than 7,000, operates more than 20 production facilities in 11 countries, and sells its brands in more than 170 countries. Bacardi Limited refers to the Bacardi group of companies, including Bacardi International Limited. Visit www.bacardilimited.com or follow us on Twitter @BacardiLimited or Instagram @BacardiLimited1862. Enjoy Responsibly. BACARDÍ, its label, its bottle design and the Bat Device are trademarks and/or registered trademarks of Bacardi & Company Limited. © 2022 ALL RIGHTS RESERVED. Visit: www.bacardi.com

About EFG: EFG International is a global private banking group offering wealth management and asset management services. It operates in around 40 locations worldwide. EFG International operates in Miami through its subsidiaries EFG Capital, which provides its customers with investment and brokerage related financial services, and EFG Asset Management, which crafts financial advice for private clients seeking portfolio management and multi-family office services. Visit: www.efginternational.com
About Quantum: At Quantum, we're connected to sailors everywhere through our love of sailing and our belief that facing every challenge head-on is infinitely rewarding. Since 1996, we have focused on providing the best-performing products in sailing. Today, we're equally relentless about delivering a higher standard of service, customer care, education, support and mentorship. Visit: www.quantumsails.com
About Nautical Ventures: Nautical Ventures offers top quality water sports products and support along with a highly trained, experienced, caring staff. We provide and promote adventurous fun and healthy lifestyle options to the general public, families, businesses and resorts in sunny South Florida. Visit: www.nauticalventures.com
About Fever-Tree: Founded in 2005, Fever-Tree is the leading premium line of carbonated mixers. It procures the world's finest ingredients from natural sources. The Fever-Tree range is designed to complement and enhance a range of premium spirits and with its high quality and naturally sourced ingredients is the perfect accompaniment to any drinking occasion. Visit: www.fever-tree.com