Spirit of Sailing Embraced at Bacardi Cup Invitational Regatta
FOR INMEDIATE RELEASE
On the penultimate day of racing at the Bacardi Cup and Bacardi Cup Invitational Regatta, Miami turned on another day of exhilarating sailing, with a consistent southerly breeze of 12-17 knots across the race courses.
The Biscayne Bay stage is now set for the Star, J/70, Melges 24, Viper 640, VX One and 69F finale tomorrow.
Teams will be looking at changes to race strategy, as an approaching weather front is forecast to up the wind pressure on Saturday, March 12. Racing gets underway at 1100 hours and the Race Committee is expecting to complete the full race program completed before the weather system comes through. 
Star Class
The Star Class fleet enjoyed another spectacular day in picture perfect conditions, with the fleet spread along the length of the line for their nine nautical mile race in 12-15 knots of due south breeze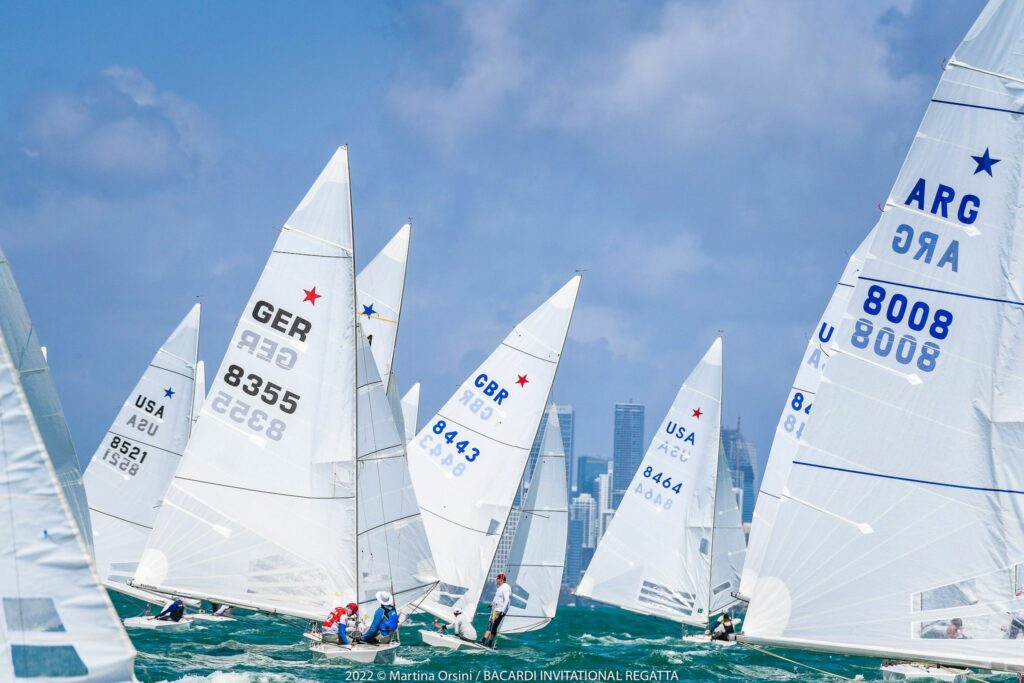 Mateusz Kusznierewicz (POL) and Bruno Prada (BRA) again pulled the proverbial rabbit out of the hat, as they were spilled off the leading boats at the first windward mark but again dug deep to put on another masterclass and claw back to finish in 2nd. An invincible performance from Kusznierewicz/Prada rewards them with mathematical victory at the 95th Bacardi Cup with a race to spare. This punishingly accurate partnership makes it three in a row as they convincingly defend their 2021 and 2020 Bacardi Cup titles.
Behind the leaders, the USA's Eric Doyle/Payson Infelise and Italy's Diego Negri/Sergio Lambertenghi have secured enough of a points margin to make it a two-way battle for 2nd and 3rd overall. Both teams are former Bacardi Cup champions, with the Americans winning in 2019 and the Italians in 2018. Negri is also the reigning Star Class World Champion.
Disappointment for Jack Jennings/Pedro Trouche who switched from their race winning show to a 14th place score, which takes them out of podium contention.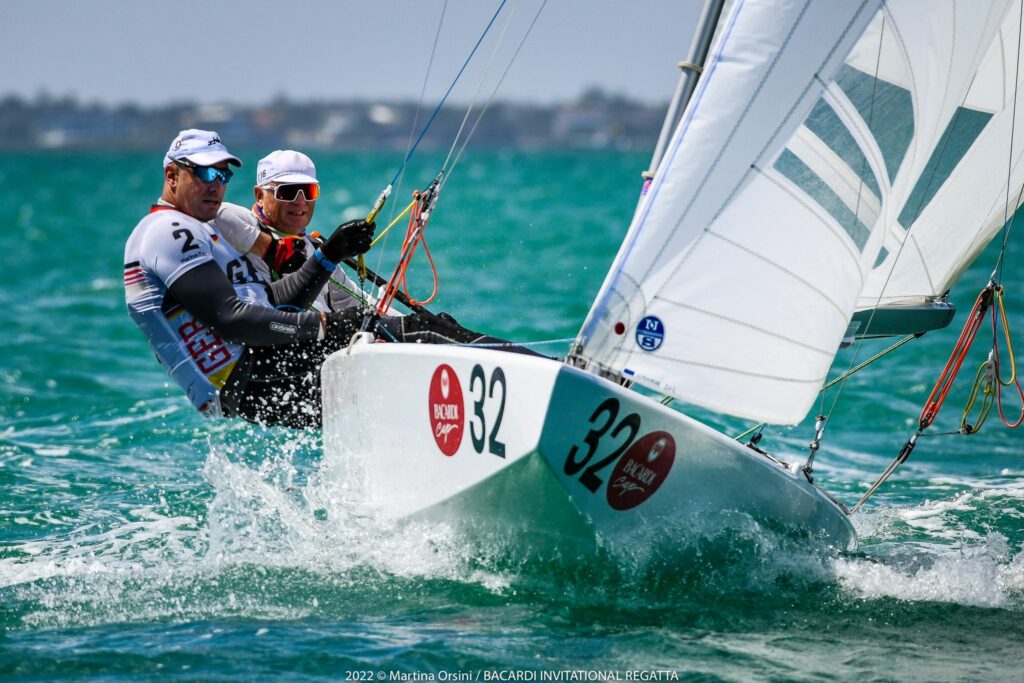 In this fifty-eight boat fleet, packed with twelve Star World Champions and eleven Bacardi Cup Champions it is tough. There are so many good sailors it is incredibly hard to break into the top 10 in the fleet, with numerous teams who can win on any one day.
Making the break to the front today, were Jørgen Schönherr (DEN) and Markus Koy (GER) who earned their lead at the first mark, holding on to the win. Schönherr was forced off the race track on Tuesday due to a foot injury, and despite limping ashore is hiking and fighting as hard as ever on the water.
"We started in the middle of the line and had a few good shifts on the first beat, and downwind we had more or less the same pace as the strong guys behind us,"explainedSchönherr, a two-time World Champion in the Dragon and FD. "I think the training we have been doing here in Miami has helped our performance downwind. After coming from the cold north it is so nice to be here and so nice to spend some weeks here in the winter."
Provisional Top 5 Results – after 5 races
1. Mateusz Kusznierewicz / Bruno Prada (POL 8548) – 6 pts
2. Eric Doyle / Payson Infelise (USA 8423) – 12 pts
3. Diego Negri / Sergio Lambertenghi (ITA 8567) – 14 pts
4. Peter O'Leary / Robert O'Leary (IRL 8465) – 21 pts
5. Eivind Melleby / Joshua Revkin (NOR 8543) – 21 pts
J/70 Class
2021 BCIR J/70 champion Travis Odenbach on 'Very Odd', headlined the day's opening race after his team established a tidy lead by the first mark and settled into the finish. They couldn't repeat their form though, and it was a British controlled race track for the rest of the day.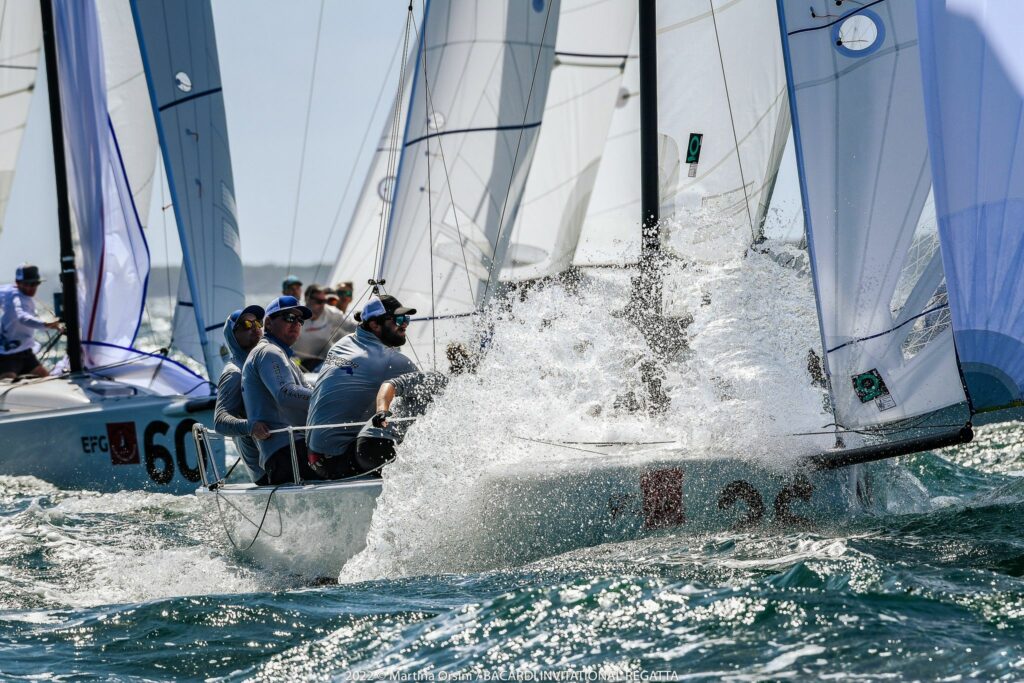 After a disappointing 17th place finish, series leader Paul Ward on 'Eat Sleep J Repeat' overhauled the fleet to own the second race of the day, followed up with a 3rd and lead by 7 points over second placed Daniel Goldberg's 'Bazinga!'.
Up next for a win was Charles Thompson's British line-up on 'Brutus III', who seized the final race and advance to 3rd overall.
"It is a real privilege to be back here in Miami sailing against the best teams in the world, with a great team from the UK," said Thompson, as he gave credit to his star-studded crew of the 2017 Nara 17 World Champion Ben Saxton, two-time World Champion in the SB20 and SB3 Craig Burlton and Twiggy, aka two-time 470 Olympian Chris Grube.
"We had a great day today, I felt we improved throughout the day," continued Thompson. "We got the measure of the wind which is a tough wind for us because we are a light boat. We are 20-30kg lighter than most, so it is tough upwind, we have to hang in there. However, if we get that right and get to the top mark, downwind we are pretty fast. We had a great result in the last race and came in first, which is incredibly pleasing for me on my boat, but the whole team enjoyed it immensely, it was a great day."
Three races are scheduled on Saturday with the top three boats likely in their own battle, having established a points safety net over the chasing pack.
Provisional Top 5 Results – after 6 races
1. Paul Ward / Charlie Cumbley / Elliot Willis / Matt Howard (GBR 1127) – 10 pts
2. Daniel Goldberg / Lucas Calabrese / Tomas Hornos / Kristen Berry (USA 84) – 17 pts
3. Charles Thompson / Craig Burlton / Ben Saxton / Chris Grube (GBR 1123) – 21 pts
4. Ignacio Perez / Santiago Perez / Juan Ignacio Perez / Moritz Spitzauer (MEX 1323) – 32 pts
5. Robert Hughes / River Paquin / Stefano Ciampalini / Paul Goodison (USA 353) – 32 pts
Melges 24 Class
The second day of racing kicked off at 1100 hours for the Melges 24 fleet with three races completed in a stunning 13-17 knot breeze.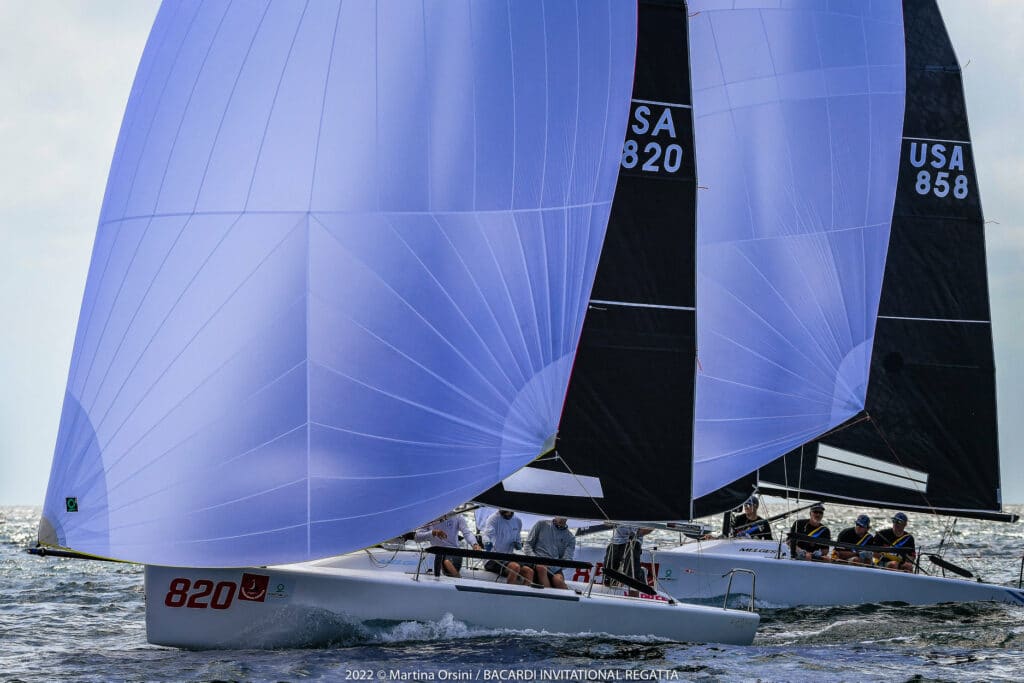 Going bold was 2021 and 2020 BCIR champion Bora Gulari on 'Mavi', who is back where he belongs after two race wins and a discard of yesterday's UFD penalty pitch him into the lead, from 10th at the start of the day.
"It went well," said 'Mavi' crew Michael Menninger. "We had decent starts, just kept it really tight and had really good speed downwind. I think most legs we passed boats and we just tried to sail really well. We had good crew work and team work, and had a good day, so it feels good."
Gulari is on an 11-point tiebreak with 2nd placed Brian Porter on 'Full Throttle', who led going into the day, with both owning a 10-point advantage over the two teams on tiebreak in 3rd and 4th, Drew Freides on 'Pacific Yankee' and Harry Melges IV's 'Zenda Express'.
Leading the Corinthian teams in 11th overall is 'Team RRH' from Norway, who have Herman Horn-Johannessen, the 2000 Olympic bronze medallist in the Soling Class, onboard.
Three races are schedule on Saturday's final day of racing, getting underway at 1100 hrs for the Melges 24.
Provisional Top 5 Results – after 6 races
1. Bora Gulari / Kyle Navin / Norman Berge / Ian Liberty / Michael Menninger (USA 820) – 11 pts
2. Brian Porter / RJ Porter / Bri Porter / Matt Woodworth (USA 849) – 11 pts
3. Drew Freides / Charlie Smythe / Morgan Reeser / Federico Michetti / Lara Poljsak (USA 865) – 20 pts
4. Harry Melges IV / Finn Rowe / Ripley Shelley / Carlos Robles / Nick Muller (USA 866) – 20 pts
5. Travis Weisleder / John Bowden / Hayden Goodrick / Mark Mendleblatt (USA 858) – 27 pts
 
Viper 640 Class
Fast paced racing with lots of position changes in the downwind legs kept the Viper 640 fleet on a non-stop race chase. Three races, three different winners and a new team on top of the leader board, as Peter Ill's 'Caterpillar' takes control.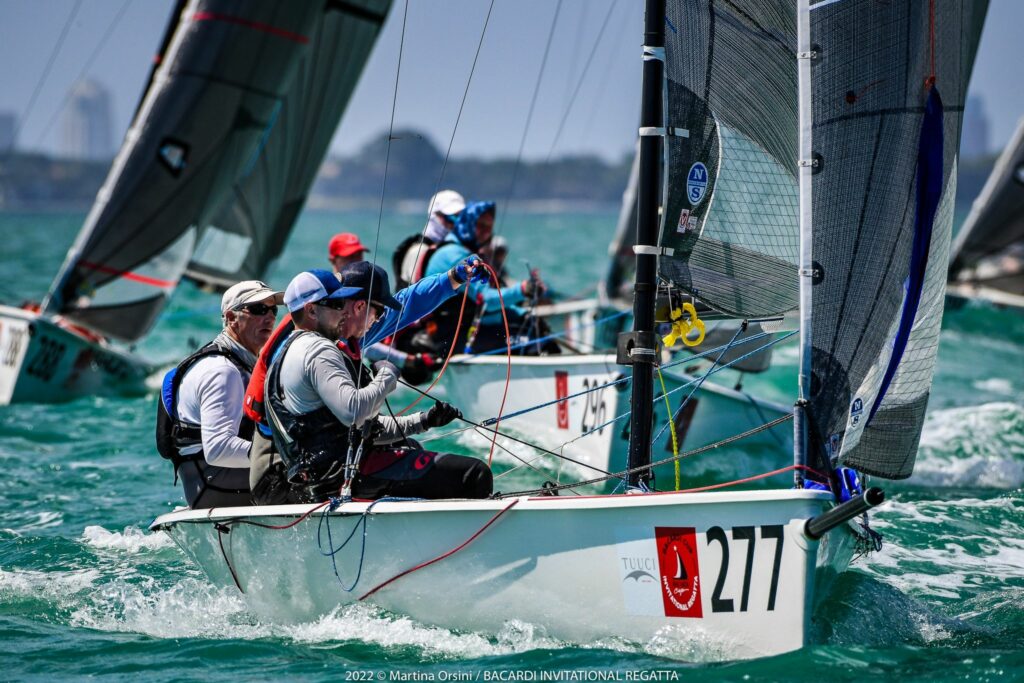 "We really enjoyed the sailing, great breeze, great races," commented Peter Ill, whose team now lead the Viper 640 Class from 1,3,2 scores. "We had a fun day. It is such a great venue to sail that we love coming down here to race. We had some good competition and back and forth racing on all of the races. Challenging, but a whole lot of fun.
"We've got a lot of improving to do and one of the things we are enjoying so much is learning how much we have to improve," said Ill on the team's progress. "Finishes were OK, but we still see all the areas where we need to go faster, where we need to be smarter, where we need to start better, so we are excited both ways."
Provisional Top 5 Results – after 6 races
1. Peter Ill / Stephen Sparkman / Maxwell Plarr (USA 277) – 11 pts
2. Vir Menon / Aditya Menon / Chris Pfrang (USA 188) – 18 pts
3. Van Sheppard / Quinton Gallon / Brad Sheppard (CAN 211) – 20 pts
4. Mary Ewenson / Mark Zagol / Jane Moore / Max Vinocur (USA 297) – 20 pts
5. Cam Farrah / Cliff Farrah / Eric Heilshorn (USA 246) – 20 pts
VX One Class
An exciting day of tight mark roundings, trading places, capsizes and action throughout the day's three races showcased the mix of talent in the VX One fleet.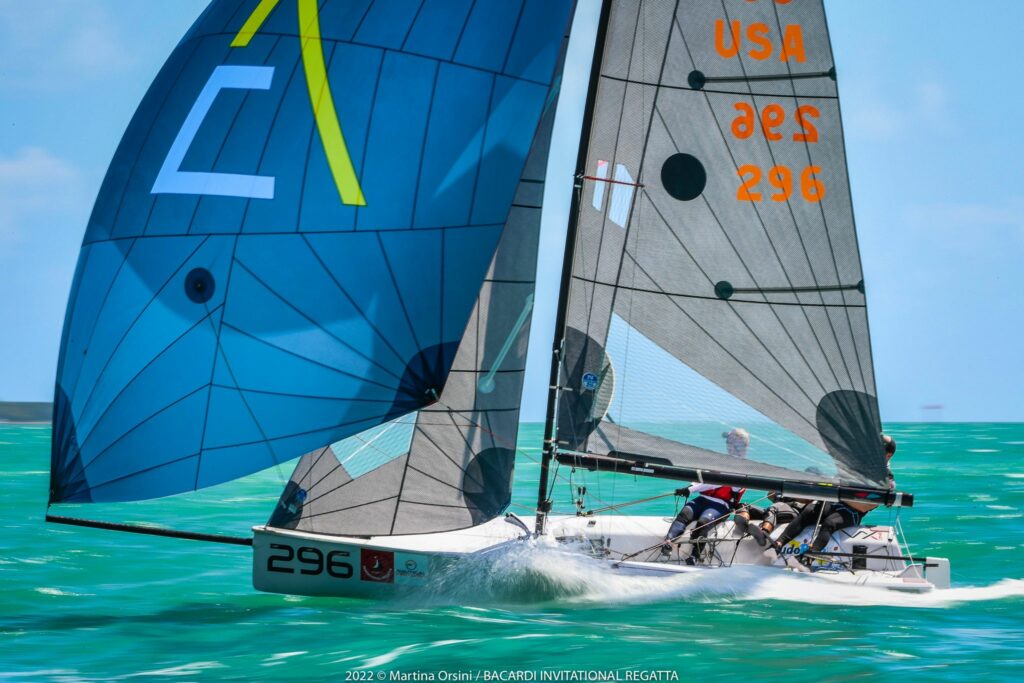 Jerry Callahan's 'Magic Bus' left the fleet for dust in the opening race, with Kevin Northrop sealing the second win and series leader Austin Powers on 'Tudo Bern' consolidated their lead with the final win of the day.
The best scorecard of the day – 2,1,3 – went to Kevin Northrop, who edges up the leader board to 2nd overall, just 2 points off the leader.
"It was beautiful sailing conditions, we had a really nice day with three top 3 finishes," said Northrop. "Miami delivered what we all came here for, which was 15-18, blue water, consistent conditions, great race committee, fun sailing – really glad to be here.
"We stick to our game plan, which is to get good, conservative, consistent starts, get to the weather mark in the top 3 and try to move forward from there."
Points are all open to decide who will be on the podium tomorrow.
Provisional Top 5 Results – after 6 races
1. Michelle Austin / Monica Austin / Monica Morgan / Austin Powers (USA 296) – 11 pts
2. Kevin Northrop / Max Albert / Andrew Brennan (USA 306) – 13 pts
3. Kaitlyn Liebel / Mark Liebel / Jordan Wiggins (USA 313) – 16 pts
4. Jerry Callahan / Kelly Cole / Curtis Adam (USA 205) – 22 pts
5. Tim Pitts / Tim Desmond (ISV 286) – 22 pts
69F Class
'Clean Sailors Youth Racing' delivered a walk over, dominating with six wins from six races to move into first overall on a 7-point advantage. 'Miami Yacht Club' is knocked off the series lead to sit on tiebreak with 'Sail America'.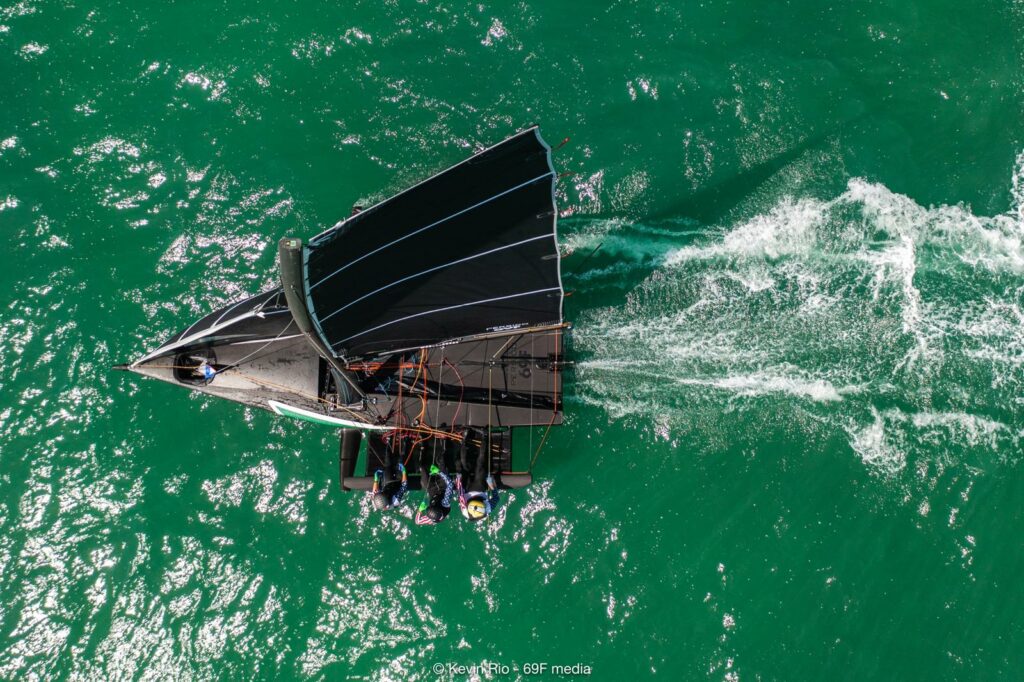 Despite not being out front, 'Sail America' did claim the jersey for pace, racking up the top speed of 29.3 knots.
"Today was an awesome day out on the water," said Gavin Ball. "Today we hit 29.3 knots, which is the fastest I have done sailing, which is pretty dang sick!"
Provisional Results – after 12 races
1. Clean Sailors Youth Racing Team – CJ Perez / Lukas Hesse / Jann Schüpbach – 20 pts
2. Miami Yacht Club Team – Brian Higgins / Nicolas Peirano Prat / Nicolas Aragones – 27 pts
3. Sail America – Pearl Lattanzi / JP Lattanzi / Gavin Ball – 27 pts

A special thank you to this year's event sponsors and supporters:
Bacardi USA, EFG International, Quantum Sails, Nautical Ventures, Fever Tree, Shake a Leg Miami, Sail 22, Pro Coach Boats, HATUEY®Beer, Tuuci, Termodinamica USA, Coconut Grove Business District, Harken Derm, Team 1 Newport and Hobie.

Text Credit: Luissa Smith
Photo Credits: Martina Orsini

Follow all the action:
Entry list
Full results
Event Website
Facebook
Instagram
YouTube

Media Information: A full media package will deliver daily video highlights, race reports and photo galleries, online and via worldwide distribution, alongside full social media coverage. Media enquiries should be sent to [email protected]. Please register for Media Accreditation. For access to daily press releases click here. For access to daily photos and videos go to our Multimedia Page.

Thank you as always to our host clubs, Coral Reef Yacht Club, Coconut Grove Sailing Club, Shake a Leg Miami and the US Sailing Center, the Coconut Grove Business District and Dinner Key Marina for their support.

Notes to Editors –

About Bacardi U.S.A., Inc.: Bacardi U.S.A. Inc. is the United States import and distribution arm of family-owned Bacardi Limited, the largest privately held spirits company in the world. The company boasts a portfolio of some of the most recognized and top-selling spirits brands in the United States including BACARDÍ® rum, PATRÓN® tequila, GREY GOOSE® vodka, DEWAR'S® Blended Scotch Whisky, BOMBAY SAPPHIRE® gin, CAZADORES® 100% blue agave tequila, MARTINI vermouth and sparkling wines, the world's leading vermouth and the world's favorite Italian sparkling wines, and other leading and emerging brands. Founded more than 158 years ago in Santiago de Cuba, Bacardi Limited currently employs more than 7,000, operates more than 20 production facilities in 11 countries, and sells its brands in more than 170 countries. Bacardi Limited refers to the Bacardi group of companies, including Bacardi International Limited. Visit www.bacardilimited.com or follow us on Twitter @BacardiLimited or Instagram @BacardiLimited1862. Enjoy Responsibly. BACARDÍ, its label, its bottle design and the Bat Device are trademarks and/or registered trademarks of Bacardi & Company Limited. © 2022 ALL RIGHTS RESERVED. Visit: www.bacardi.com

About EFG: EFG International is a global private banking group offering wealth management and asset management services. It operates in around 40 locations worldwide. EFG International operates in Miami through its subsidiaries EFG Capital, which provides its customers with investment and brokerage related financial services, and EFG Asset Management, which crafts financial advice for private clients seeking portfolio management and multi-family office services. Visit: www.efginternational.com

About Quantum: At Quantum, we're connected to sailors everywhere through our love of sailing and our belief that facing every challenge head-on is infinitely rewarding. Since 1996, we have focused on providing the best-performing products in sailing. Today, we're equally relentless about delivering a higher standard of service, customer care, education, support and mentorship. Visit: www.quantumsails.com

About Nautical Ventures: Nautical Ventures offers top quality water sports products and support along with a highly trained, experienced, caring staff. We provide and promote adventurous fun and healthy lifestyle options to the general public, families, businesses and resorts in sunny South Florida. Visit: www.nauticalventures.com

About Fever-Tree: Founded in 2005, Fever-Tree is the leading premium line of carbonated mixers. It procures the world's finest ingredients from natural sources. The Fever-Tree range is designed to complement and enhance a range of premium spirits and with its high quality and naturally sourced ingredients is the perfect accompaniment to any drinking occasion. Visit: www.fever-tree.com