SPORTY CONDITIONS LIVEN UP BACARDI WINTER SERIES EVENT 2
FOR IMMEDIATE RELEASE
January 27th, 2023
The three-day Bacardi Winter Series Event 2 opened today, Friday, January 27, on Biscayne Bay, Miami, in thrilling conditions.

A fresh breeze, averaging 15 knots across the day and gusts above it, ensured on time starts, with fast and high energy racing for the J/70, Melges 24 and 69F fleets.

Three windward/leeward races saw Andrea Pozzi's 'Bombarda' out front in the Melges 24 and Robert Hughes on 'Heartbreaker' dominate the J/70. Six more races are scheduled over the weekend. For the 69F a superb victory to Antigua 'RhumRunners' from an intense six races.

Friday morning got underway with a weather briefing hosted by Quantum Sails in partnership with Sail22 and SailFlow, and smiles on teams' faces in anticipation of wavy planing conditions and a steady breeze.

Hosted at Shake-A-Leg-Miami, the Bacardi Winter Series enjoys the same legendary hospitality as every Bacardi event, with post-race cocktails and shoreside fun for all.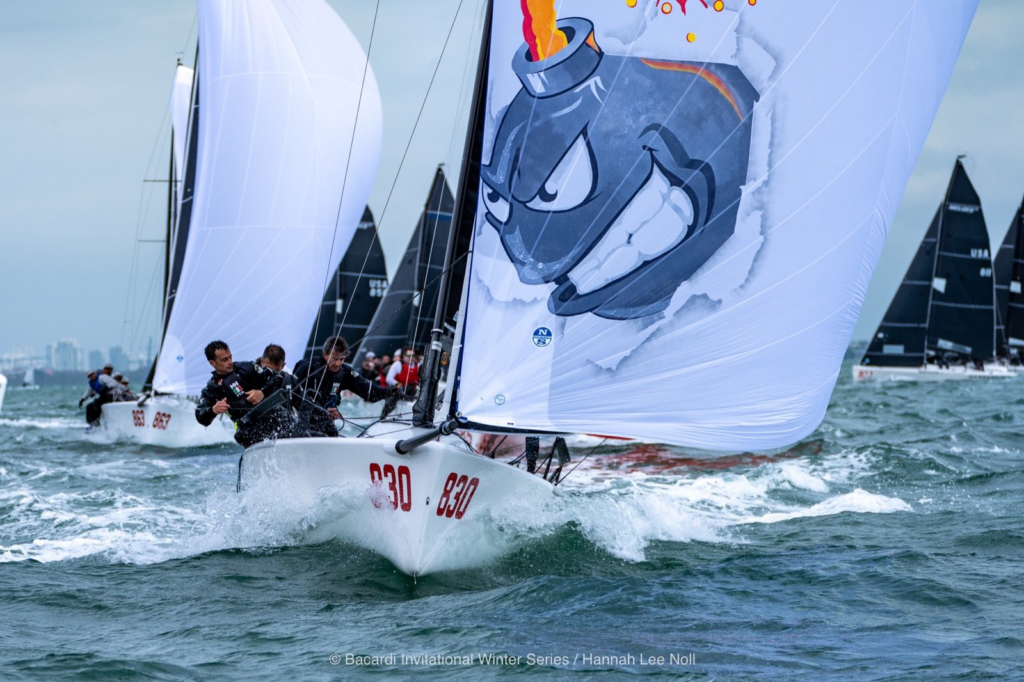 Melges 24
Andrea Pozzi's Italian crew on 'Bombarda' won the race 1 start and accelerated away to set the pace around the track with virtually no look-back. Second to Bruce Ayres' team on 'Monsoon' and third to Michael Goldfarb's 'WarCanoe'.
 
For race 2, Drew Freides' well-rehearsed crew on 'Pacific Yankee' bucked off their 7th place from the opening race and led to the windward mark, pursued by 'Monsoon', 'Nefeli', 'Gamecock' and 'Team Barbarians'. 'Pacific Yankee', who won the Bacardi Winter Series Event 1, looked good downwind until a mistake left them with a ripped kite on the takedown which almost proved costly. Disaster too for Stuart Simpson's 'Team Barbarians' who lost their rig, along with a few other Melges 24 mark rounding wipeouts, as the 17-22 knot breeze kept the racing super edgy. The breeze was fairly consistent, so it was all about speed.
 
'Pacific Yankee' swiftly prepared their back-up kite for the second downwind, losing no pace to win by an impressive margin. With two races down, a 1,3 scorecard from 'Bombarda' kept the team in first overall with 'Nefeli' in second and 'Pacific Yankee' in third, and on tie-break with the teams placed through to 6th.
 
For race 3 'Bombarda' bounced back to claim another win, pushed by 'Nefeli' in second and 'Pacific Yankee' in third, with the overall lead still in the hands of 'Bombarda'.
 
Complimenting the Italians' 1,3,1 performance, Mike Buckley, crew on 7th placed 'Lucky Dog' said, "The Italians were on fire today, especially downwind, finding the breeze and connecting the puffs. Yeah, they put on a show!"
 
After three races, seven different Melges 24 teams had punched their way through the fleet to claim a top 5 finish, and there is plenty more to unfold over the next six races.
 
Melges 24 Provisional Top 5 results – after 3 races
1. Andrea Pozzi / Carlo Zermini / Matteo Ivaldi / Stefano Ciampalini / Nicolas Dal Ferro (ITA 830) – 5 pts
2. Peter Karrié / Alessandro Franci / Niccolò Bianchi / Alessandro Saettone / Saverio Cigliano (GER 673) – 9 pts
3. Drew Freides / Nic Asher / Charlie Smythe / Kyle Navin / Mark Ivey (USA 865) – 11 pts
4. Bruce Ayres / Tomas Dietrich / Edward Hackney / Chelsea Simms / Jeremy Wilmot (USA 851) – 12 pts
5. Michael Goldfarb / Chris Rast / Jonny Goldsberry / Matteo Ramian / Chris Watters (USA 825) – 16 pts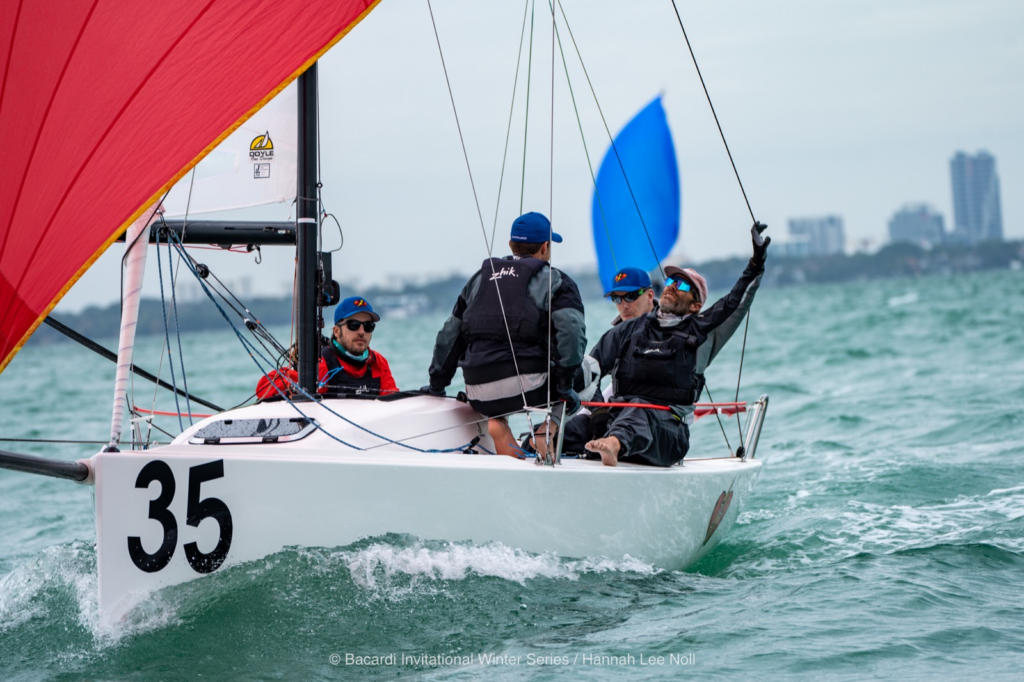 J/70
Three races down and nine different teams appeared inside the top five finishers as a true indicator of talent in the J/70 fleet.
 
After a general recall in race 1 the fleet got away, with John Heaton's 'Empeiria' the boat to beat, as they controlled the fleet round the track. Frustratingly, 'Empeiria' found themselves on the wrong side of the downwind as the pressure filled in from the left towards the finish, and Robert Hughes' 'Heartbreaker' seized the advantage and the win.
 
'Empeiria' again headlined off the start and led to the windward mark in race 2, with Andrew Fisher's 'Button Fly', Tiani Hausen's 'Gaucho 3', Richard Witzel's 'Rowdy' and Charlie Thompson's 'Brutus III' in pursuit. All change by the next windward rounding, with 'Rowdy' earning the lead and it stayed that way to the finish, with 'Rowdy' taking the win and a few position shake-ups behind.
 
Following on from their confident performance, 'Heartbreaker' nailed the win in race 3 and claimed the overall event lead, with 'Rowdy' dropping to second. 
 
Robert Hughes, who is sailing only his second event with his 'Heartbreaker' crew line-up, commented, "I think the first regatta I did here was '97 or '98 and we keep coming back, because the bay for smaller boats is very reliable, a great breeze, great chop. You can't beat it.
 
"Everybody comes from all over the place. You have a lot of good teams, international teams, that just makes the racing a higher level and a lot of fun. There is no better place to be, that's for sure."
 
Reflecting on their day and series lead, he continued, "We had one of those great days that you love on a first day. Any first day where you don't blow your throw out is a good one! The team did great. We were going really well downwind and had the boat set up nice. It is hard to sail those boats in the chop, but when you get it just right, it makes a difference."
 
J/70 Provisional Top 5 results – after 3 races
1. Robert Hughes / Marc Gauthier / Willem Van Waay / Manu Weiller (USA 353) – 8 pts
2. Richard Witzel / Carlos Robles / Max Salminen / Thomas Barrows (USA 1562) – 11 pts
3. John Heaton / Will Felder / Zeke Horowitz / Zac Mason (USA 169) – 11 pts
4. Douglas Rastello / Alex Curtiss / Orrin Starr / John Wallace (USA 602) – 15 pts
5. Fernando Perez Ontiveros / Gonçalo Ribeiro / Bernardo Freitas / River Paquin (MEX 1152) – 22 pts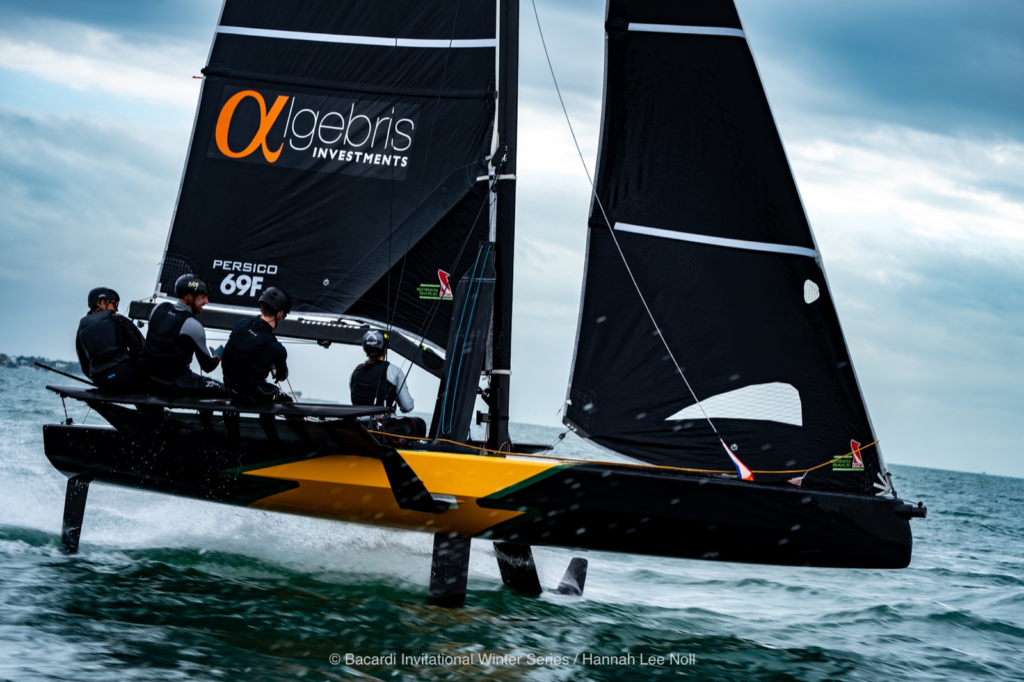 69F
Fresh from contesting the Youth Foiling Gold Cup 2023 Act 1 on Biscayne Bay, the foiling 69F line-up joined the three days of racing.
Descending on the race track for the day's six races, in what marks the first event of the US Select Series, were six teams spanning north America and the Caribbean, representing Antigua and Barbuda, Canada and the USA.

Rocco Falcone, Teresa Romairone and Filipo Amonti ate up the race track with a standout performance to secure 'Antigua Rhum Runners' day one leaderboard glory.

69F Provisional Results – after 6 races
1. Antigua Rhum Runners – 108 pts
2. NYYC American Magic Team 1 – 102 pts
3. NYYC American Magic Team 3 – 97 pts
4. Flying Canucks – 86 pts
5. Pitch Perfect – 83 pts
6. NYYC American Magic Team 2 – 62.5 pts

This evening teams enjoyed Bacardi happy hour at Shake-A-Leg-Miami. Racing resumes on Saturday, January 28, with three races scheduled for the Melges 24 and J/70 and an open format for the 69F.

Bacardi Winter Series Event 2 marks the second of the three-event series for the J/70 and Melges 24, which culminates at the 2023 Bacardi Cup Invitational Regatta, 8-11 March 2023.
Follow at:
Web: bacardiinvitational.com
Facebook: facebook.com/BacardiCupInvitational
Instagram: instagram.com/bacardi_regatta
About Bacardi U.S.A., Inc.
Bacardi U.S.A. Inc. is the United States import and distribution arm of family-owned Bacardi Limited, the largest privately held spirits company in the world. The company boasts a portfolio of some of the most recognized and top-selling spirits brands in the United States including BACARDÍ® rum, PATRÓN® tequila, GREY GOOSE® vodka, DEWAR'S® Blended Scotch Whisky, BOMBAY SAPPHIRE® gin, CAZADORES® 100% blue agave tequila, MARTINI vermouth and sparkling wines, the world's leading vermouth and the world's favorite Italian sparkling wines, and other leading and emerging brands. Founded more than 158 years ago in Santiago de Cuba, Bacardi Limited currently employs more than 7,000, operates more than 20 production facilities in 11 countries, and sells its brands in more than 170 countries. Bacardi Limited refers to the Bacardi group of companies, including Bacardi International Limited. Visit www.bacardilimited.com or follow us on Twitter @BacardiLimited or Instagram @BacardiLimited1862. Enjoy Responsibly.
About Quantum Sails:
At Quantum, we're connected to sailors everywhere through our love of sailing and our belief that facing every challenge head-on is infinitely rewarding. For us, that means challenging convention – especially if that's what it takes to help our customers and the sailing industry get to new, better places. As a company and as individuals, we embrace every single challenge you bring our way as our own. Since 1996, we have focused on providing the best-performing products in sailing. Today, we're equally relentless about delivering a higher standard of service, customer care, education, support and mentorship. It's how we'll continue to help sailors at all levels pursue their passions and achieve their aspirations. Our commitment starts with our dedicated employees at more than 70 sail lofts around the world and includes hundreds more working behind the scenes to design, build and service Quantum® sails. Visit: www.quantumsails.com
Text Credit: Luissa Smith
Photo Credits: Hannah Lee Noll