TECHNICAL EXCELLENCE FROM JØRGEN SCHÖNHERR / MARKUS KOY REWARDS THEM WITH A WIN ON DAY 1 AT 96TH BACARDI CUP
March 6, 2023 – Miami, USA

The 96th Bacardi Cup, March 5-11, 2023, kicked off today in Biscayne Bay, Miami with the opening race for the Star Class featuring seventy-three teams from seventeen nations across North and South America and Europe.

After a one-hour postponement ashore waiting for breeze, followed by a general recall, race 1 got underway at 1320 hrs in a light 7-9 knots southerly. The breeze increased at the first windward mark to 10 knots, before easing to remain between 7-9 knots for the rest of the 8nm race.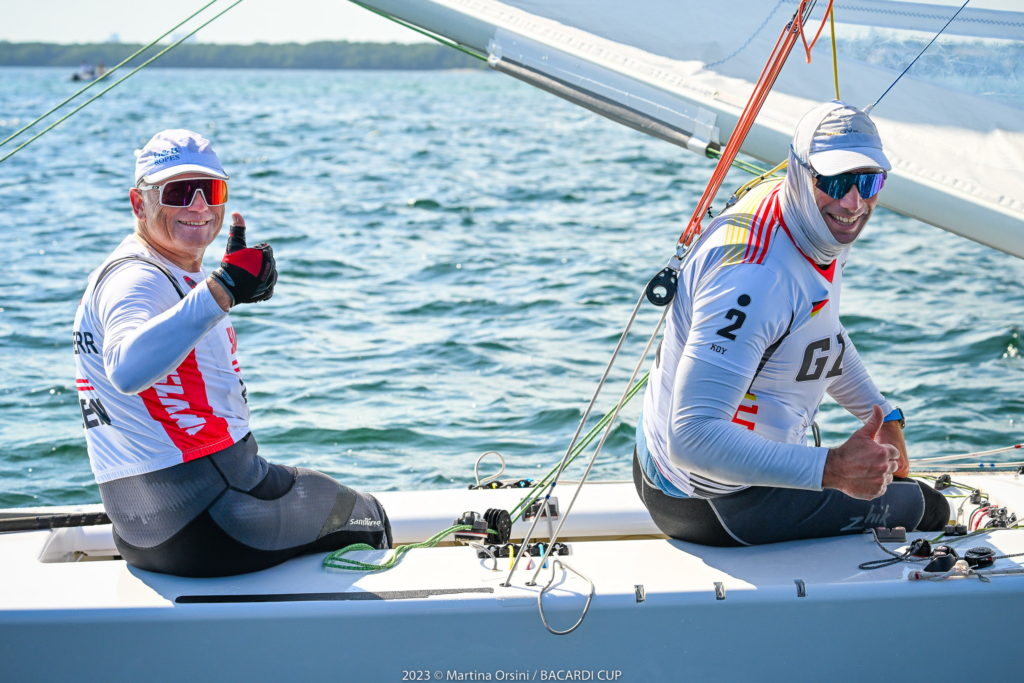 Impressive form from Denmark's Jørgen Schönherr/Markus Koy, who found the formula to convert their position outside the top ten at the first mark to nail a decisive opening win.
 
"We are feeling great," smiled Koy. "I mean winning a race is always like, it couldn't be better."
 
"We feel confident, because we won the last two Bacardi Cup Races," added Schönherr, in reference to winning the final race of the 2022 Bacardi Cup and today's opening race.
 
Leading off the start and upwind were two big name teams in the Star, defending Bacardi Cup champions Mateusz Kusznierewicz/Bruno Prada and Austria's Hans Spitzauer/Christian Nehammer. Between them they have more Olympic history than fits on two hands, counting thirteen appearances in total. Add to that multiple World and Continental Championships appearances and podium finishes across different classes and we have serious talent. The last time the two teams faced each other was at the 2021 Star Worlds, where it was advantage to Spitzauer/Nehammer who secured bronze, with Kusznierewicz/Prada in fifth.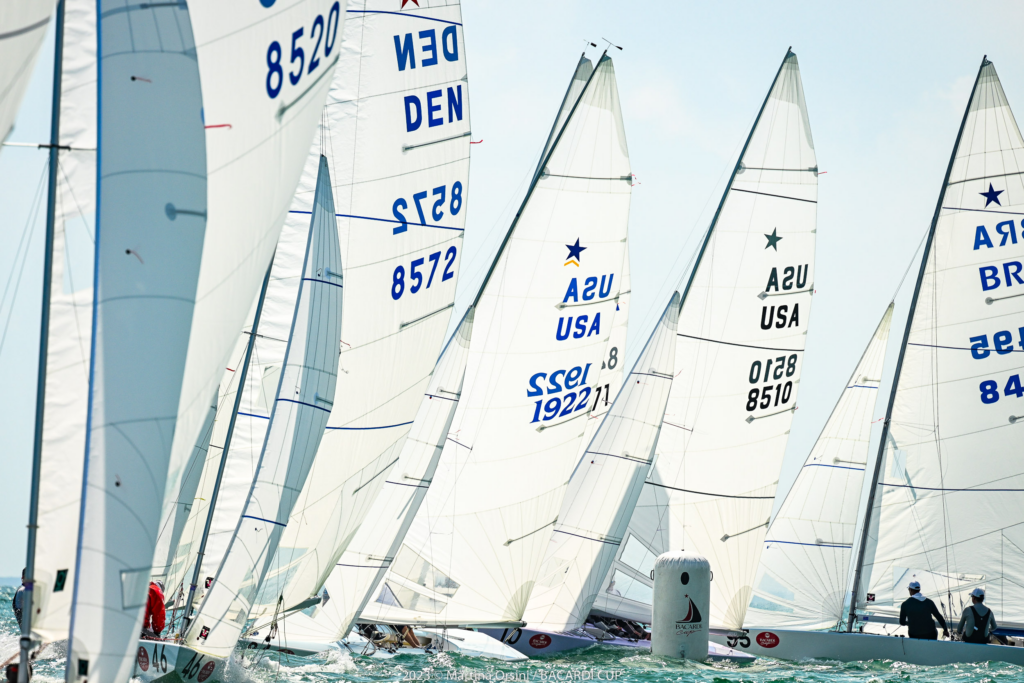 Whilst eventual race victors Schönherr/Koy were back around tenth at the first mark, Spitzauer/Nehammer rounded ahead with Kusznierewicz/Prada a few seconds behind. At the downwind gate they split and the advantage went to Kusznierewicz/Prada, just. The Austrians responded and reclaimed their lead by the second windward mark as the two teams locked into a battle for supremacy, before their dominance became an unplanned unravel during the final two legs.
 
"Everyone caught us, because we made seven unnecessary tacks in the second upwind," explained Kusznierewicz on his plummet down the leader board. "We were in second and Hans and Christian were tacking on us, so we had to tack again and tack again, and we lost 30-40 metres as I had to get away into clear wind."
 
Nehammer explained their downfall was down to a penalty in the final downwind, saying, "We were still leading after the second upwind, so we were fighting very close with the Danish guys at the beginning of the second downwind. We were yellow flagged and then we were in completely the wrong position of the fleet on the right side and weren't able to recover."
 
Make a mistake and you lose – just like that. The Austrian's penalty gave an open ticket for Schönherr/Koy to head for the finish and seal their dismantling of the opposition. An impressive performance from the Danish with a steady and assured comeback through the fleet in a demonstration of technical excellence.

Reflecting on their race, Koy commented, "We had a very nice race. We started somewhere like ten at the top mark and Jørgen was sailing the boat upwind very fast and also downwind. On the downwinds there were some opportunities to catch a little bit more pressure and get the current right. Basically, from the top mark, we gained upwind and downwind."
 
"It's super tough competition here, so of course it is a very high goal we have," said Schonherr. "We will take it from here and every day is a beautiful day when you sail in Miami with Bacardi."
 
Last year, Schonherr was off form due to a broken foot, although they still pulled an impressive 8th place overall.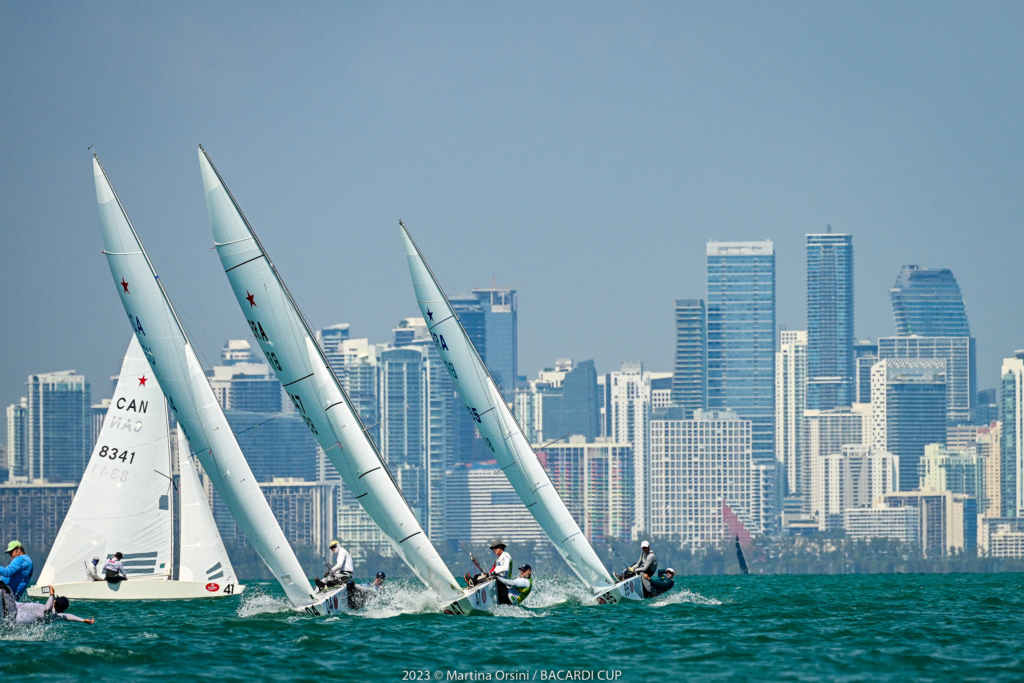 Finishing in 2nd and 3rd respectively, Eivind Melleby/Mark Strube and Eric Doyle/Payson Infelise both came through in the final downwind leg to break into the top 5 and seize strong finishes. Doyle/Infelise won the 2019 Bacardi Cup, before Kusznierewicz/Bruno Prada unleashed their three back-to-back wins. A consistent performance also from Will Stout/Erik Anderson saw them in the leading pack throughout the race to finish in 4th.
 
Provisional Results – Top 10 after Race 1
1. Jørgen Schönherr / Markus Koy (DEN 8532) – 1 pts
2. Eivind Melleby / Mark Strube (NOR 2017) – 2 pts
3. Eric Doyle / Payson Infelise (USA 8580) – 3 pts
4. Will Stout / Erik Anderson (USA 8538) – 4 pts
5. Marin Misura / Tonko Barac (CRO 8531) – 5 pts
6. Peter Vessella / Phil Trinter (USA 8573) – 6 pts
7. Mateusz Kusznierewicz / Bruno Prada (POL 8548) – 7 pts
8. Leandro Altolaguirre / Lucas Altolaguirre (ARG 1945) – 8 pts
9. George Szabo / Guy Avellon (USA 8537) – 9 pts
10. Hans Spitzauer / Christian Nehammer (AUT 8529) – 10 pts
 
Click here for full results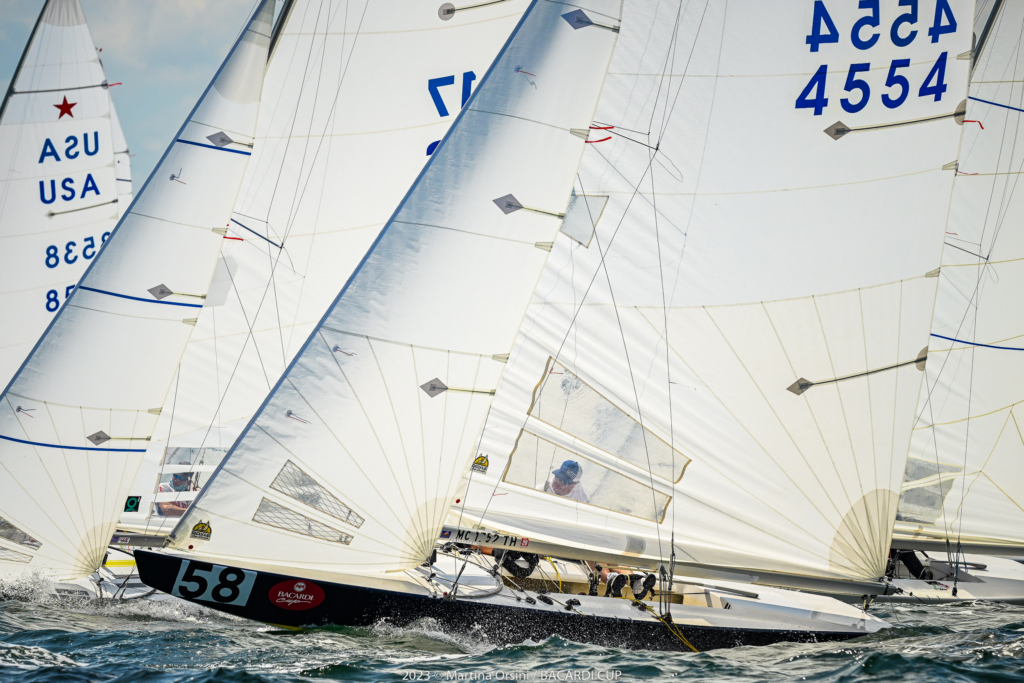 Tonight, the Star sailors will be enjoying Bacardi hospitality at the Bacardi Building in Miami. Race 2 for the Star Class is scheduled for 1200 hours on Tuesday, March 7. From Thursday, March 9, the J/70, Melges 24, VX One Melges 15 and 69F will open their three-day series.
A special thank you to this year's event sponsors and supporters:
Bacardi USA, EFG International, Quantum Sails, Nautical Ventures, Fever Tree, Shake a Leg Miami, Sail 22, HATUEY®Beer, Tuuci, Termodinamica USA, Coconut Grove Business District, Harken Derm, Team 1 Newport and Hobie Eyewear, Seahorse Magazine, Zhik, Coral Reef Yacht Club, Biscayne Bay Yacht Club, Coconut Grove Sailing Club, US Sailing Center, City of Miami.  Text Credit: Luissa Smith
Photo Credits: Martina Orsini 
 
Follow the racing at:
Event Website
Provisional Entry List
Event Programme
Facebook
Instagram
YouTube
 
Media Information: A full media package will deliver daily video highlights, race reports and photo galleries, online and via worldwide distribution, alongside full social media coverage. Media enquiries should be sent to 

[email protected]

. Please register for Media Accreditation.

Notes to Editors –

About Bacardi U.S.A., Inc.Bacardi U.S.A. Inc. is the United States import and distribution arm of family-owned Bacardi Limited, the largest privately held spirits company in the world. The company boasts a portfolio of some of the most recognized and top-selling spirits brands in the United States including BACARDÍ® rum, PATRÓN® tequila, GREY GOOSE® vodka, DEWAR'S® Blended Scotch Whisky, BOMBAY SAPPHIRE® gin, CAZADORES® 100% blue agave tequila, MARTINI vermouth and sparkling wines, the world's leading vermouth and the world's favorite Italian sparkling wines, and other leading and emerging brands. Founded more than 158 years ago in Santiago de Cuba, Bacardi Limited currently employs more than 7,000, operates more than 20 production facilities in 11 countries, and sells its brands in more than 170 countries. Bacardi Limited refers to the Bacardi group of companies, including Bacardi International Limited. Visit: www.bacardilimited.com 

About EFGEFG International is a global private banking group offering wealth management and asset management services. It operates in around 40 locations worldwide. EFG International operates in Miami through its subsidiaries EFG Capital, which provides its customers with investment and brokerage related financial services, and EFG Asset Management, which crafts financial advice for private clients seeking portfolio management and multi-family office services. Visit: www.efginternational.com

About Quantum SailsSince 1996, Quantum Sails has focused on providing the highest-performing products and the highest level of service and support to racing and cruising sailors of all levels. The second largest sailmaker in the world, Quantum Sails is headquartered in Traverse City, Michigan, and boasts a network of over 70 owned and affiliated sail lofts around the globe. Today, Quantum Sails is equally relentless about delivering on their promise to help sailors pursue their passions and meet their challenges with a higher standard of service, customer care, education, service, and mentorship. Visit: www.quantumsails.com

About Nautical VenturesNautical Ventures offers top quality water sports products and support along with a highly trained, experienced, caring staff. We provide and promote adventurous fun and healthy lifestyle options to the general public, families, businesses and resorts in sunny South Florida. Visit: www.nauticalventures.com