WET AND WILD ON DAY 2 AT BACARDI WINTER SERIES 2 IN MIAMI
FOR IMMEDIATE RELEASE
January 28th, 2023
Blustery conditions on the second day of racing at Bacardi Winter Series Event 2, Saturday, January 28, upped the ante with 15-22 knots sweeping through the racetrack.

It was a beautiful day on Biscayne Bay, with an incredible breeze and choppy sea guaranteeing thrilling racing for three races in the J/70 and Melges 24 fleets, with the 69F teams in epic foiling mode for their six races. The mainly South breeze went right a bit for the last race, with the Race Committee changing and lengthening the course.

The discard after race 6 for the J/70 and Melges 24 saw a few shifts in the leaderboard but no change in the event leaders, with Robert Hughes' 'Heartbreaker' and Andrea Pozzi's 'Bombarda' of Italy holding firm. NYYC American Magic Team 1 is now the team to beat in the 69F.

Teams representing Antigua and Barbuda, Brazil, Canada, Cayman Islands, Denmark, Germany, Great Britain, Italy, Mexico and the USA are relishing the conditions in Miami, with one more day of racing on Sunday and more of the same weather expected.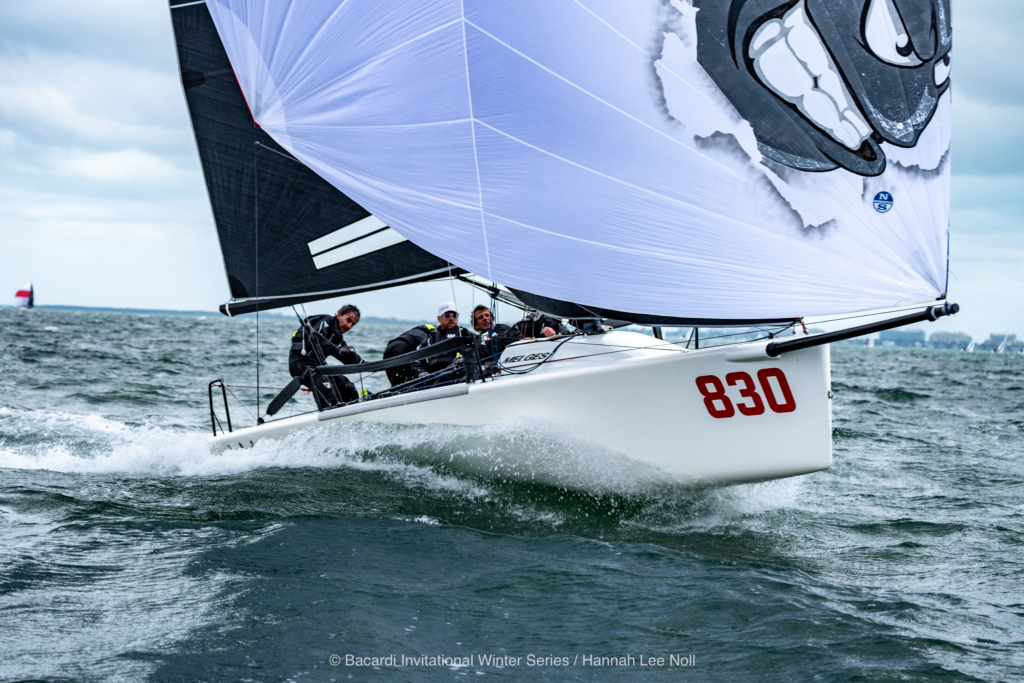 Melges 24
Overnight leaders 'Bombarda' have again been relentless in their teamwork and pace, scoring another two race wins today to control the leaderboard. Michael Goldfarb's 'WarCanoe' nipped past them in race 5 and edged into the top three by the end of the day, on tiebreak over Bruce Ayres' 'Monsoon' in fourth. Moving up one from yesterday's third place is 'Pacific Yankee' with Marcus Eagan stepping in to helm.

Andrea Pozzi, helm of 'Bombarda' said, "It is a fantastic spot Miami. Today and yesterday were incredible, and for me incredible results. It is a good team, we are friends. Tomorrow is another day."

The 'Bombarda' team have switched their game considerably, since finishing 10th at the opening event of the Bacardi Winter Series 1 in December 2022.

Commenting on the key to their success, coach Giulio Desiderato laughed, saying, "We are old but gold!"

Desiderato added, "We will see if we can perform in the same way. As a team, we sailed a lot in the past altogether and 'Bombarda' is one of the historical teams of the Melges 24. We stopped for a couple of years, but we worked a lot together so now we are starting again but of course we carry what we did in the past.

"Having fun is one of the keys to success. We are a group of friends, so we are having a good time, not only on the water sailing but spending time here in Miami."

Strong initial pace from Peter McClennen's 'Gamecock' team saw them dominate the early stages of races 4 and 5, but both times faltered to allow others to pass on the downwind legs.

Melges 24 Provisional Top 5 results – after 6 races
1. Andrea Pozzi / Carlo Zermini / Matteo Ivaldi / Stefano Ciampalini / Nicolas Dal Ferro (ITA 830) – 7 pts
2. Marcus Eagan / Nic Asher / Charlie Smythe / Kyle Navin / Mark Ivey (USA 865) – 14 pts
3. Michael Goldfarb / Chris Rast / Jonny Goldsberry / Matteo Ramian / Chris Watters (USA 825) – 16 pts
4. Bruce Ayres / Tomas Dietrich / Edward Hackney / Chelsea Simms / Jeremy Wilmot (USA 851) – 16 pts
5. Peter Duncan / Victor Diaz de Leon / Norman Berge / Morgan Trubovich / Erik Shampain (USA 829) – 20 pts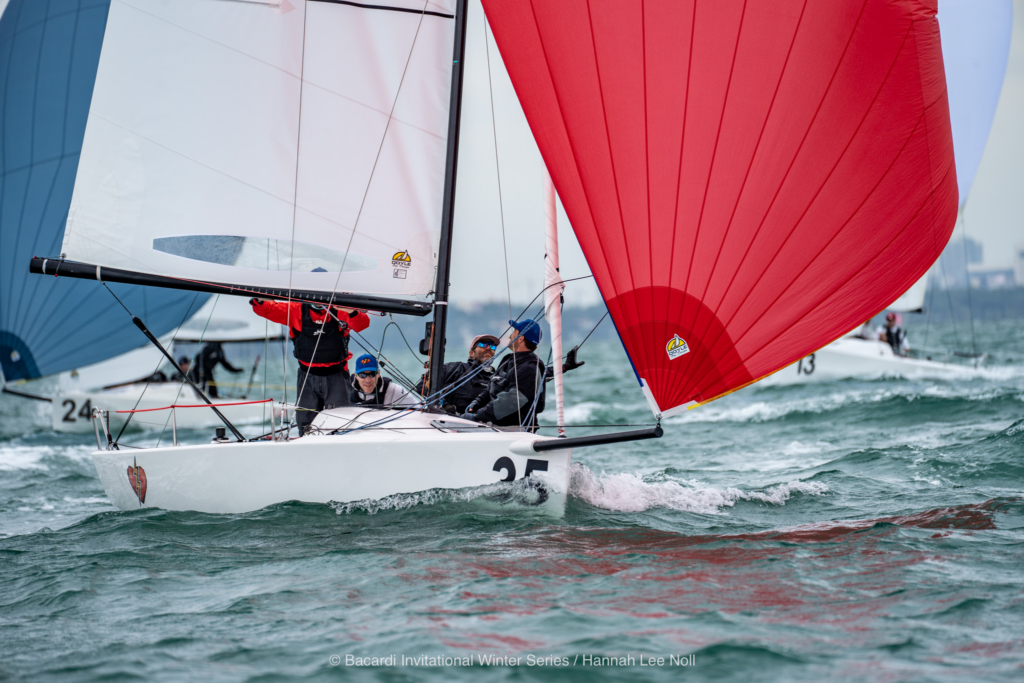 J/70
Three races, three different winners, and none of the same frontrunners as yesterday, with the challenging conditions giving everyone opportunities to open their lanes and find pace.

Fernando Perez Ontiveros' 'Black Mamba' of Mexico claimed the first race of the day with a significant lead. Douglas Rastello' 'Good to Go' took the second win and over to Great Britain's 'Brutus III' with Josie Gliddon driving to taste glory in race 3. The scoreboard remains finely balanced in the J/70 fleet with just a few points separating the leading boats.

Crushing the competition to still sit pretty out front from their 6,2,2 scorecard is Robert Hughes' 'Heartbreaker' with Marc Gauthier / Willem Van Waay / Manu Weiller onboard. The team continues to outperform their scorecard from Bacardi Winter Series Event 1 last year where they finished fifth.

"This is a beautiful event," said Willem Van Waay of 'Heartbreaker'. "We have breeze, it has been 12-22 for the past two days and it is hard to mess with that. We are going well, just trying to stay out of trouble. There are some great competitors, and we will just try to keep doing what we are doing. Breeze-wise there are some shifts out there and we are just trying to stay in the pressure downwind and keep it ripping and have some fun!

"We are a great team. This is like our third event together and we are finally really flowing better."

Another super consistent 2,4,3 performance from John Heaton's 'Empeiria' shifts them up to second with Douglas Rastello on 'Good to Go' leapfrogging to third ahead of Richard Witzel's 'Rowdy'.

After two general recalls in the last race of the day, a black flag start kept the fleet in order.

J/70 Provisional Top 5 results – after 6 races
1. Robert Hughes / Marc Gauthier / Willem Van Waay / Manu Weiller (USA 353) – 12 pts
2. John Heaton / Will Felder / Zeke Horowitz / Zac Mason (USA 169) – 15 pts
3. Douglas Rastello / Alex Curtiss / Orrin Starr / John Wallace (USA 602) – 19 pts
4. Richard Witzel / Carlos Robles / Max Salminen / Thomas Barrows (USA 1562) – 21 pts
5. Charlie Thompson / Chris Grube / Bex Saxton / Josie Gliddon / Elisabeth Whitener (GBR 1123) – 24 pts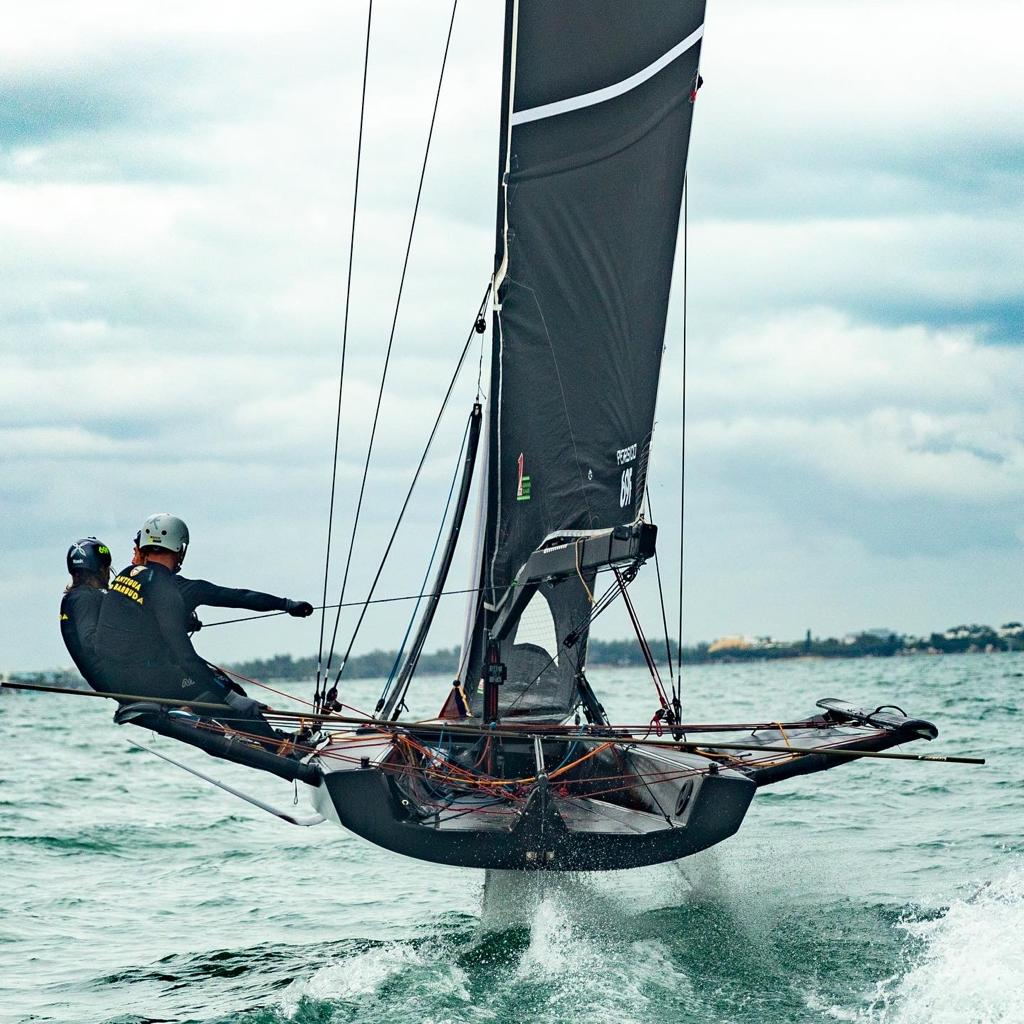 69F
Stunning conditions saw the 69F on fire flying around the track to contest six races. The same 69F teams hold the top three positions, just a switch between first and second, as NYYC American Magic Team 1 dominated the track, with outstanding teamwork and strategic brilliance from the USA's Harry Melges IV, Severin Gramm and Ripley Shelley. The same order remains for the teams in 4th-6th place.

"Being here in Miami for the Bacardi Winter Series Regatta is always great," commented Ripley Shelley, flight controller on NYYC American Magic Team 1. "I mean who doesn't love a little of this," he smiled raising his cocktail.

Putting speed in perspective, NYYC American Magic Team 1 clocked a max 28 knots today, averaging 25 knots downwind. Reflecting on the pressure of high-speed racing and closing speeds of 50-60 knots, Shelley added, "There is usually a lot of screaming and it gets intense out there!"

69F Provisional Results – after 6 races
1. NYYC American Magic Team 1 – 207 pts
2. Antigua Rhum Runners – 202.5 pts
3. NYYC American Magic Team 3 – 194 pts
4. Flying Canucks – 167 pts
5. Pitch Perfect – 160.5 pts
6. NYYC American Magic Team 2 – 159.5 pts

This evening, teams enjoyed Bacardi happy hour and a Sailor's Dinner at Shake-A-Leg-Miami. Racing resumes on Sunday, January 29, with three races scheduled for the Melges 24 and J/70 and an open format for the 69F.

Bacardi Winter Series Event 2 marks the second of the three-event series for the J/70 and Melges 24, which culminates at the 2023 Bacardi Cup Invitational Regatta, 5-11 March 2023.

Follow at:
Web: bacardiinvitational.com
Facebook: facebook.com/BacardiCupInvitational
Instagram: instagram.com/bacardi_regatta
About Bacardi U.S.A., Inc.
Bacardi U.S.A. Inc. is the United States import and distribution arm of family-owned Bacardi Limited, the largest privately held spirits company in the world. The company boasts a portfolio of some of the most recognized and top-selling spirits brands in the United States including BACARDÍ® rum, PATRÓN® tequila, GREY GOOSE® vodka, DEWAR'S® Blended Scotch Whisky, BOMBAY SAPPHIRE® gin, CAZADORES® 100% blue agave tequila, MARTINI vermouth and sparkling wines, the world's leading vermouth and the world's favorite Italian sparkling wines, and other leading and emerging brands. Founded more than 158 years ago in Santiago de Cuba, Bacardi Limited currently employs more than 7,000, operates more than 20 production facilities in 11 countries, and sells its brands in more than 170 countries. Bacardi Limited refers to the Bacardi group of companies, including Bacardi International Limited. Visit www.bacardilimited.com or follow us on Twitter @BacardiLimited or Instagram @BacardiLimited1862. Enjoy Responsibly.
About Quantum Sails:
At Quantum, we're connected to sailors everywhere through our love of sailing and our belief that facing every challenge head-on is infinitely rewarding. For us, that means challenging convention – especially if that's what it takes to help our customers and the sailing industry get to new, better places. As a company and as individuals, we embrace every single challenge you bring our way as our own. Since 1996, we have focused on providing the best-performing products in sailing. Today, we're equally relentless about delivering a higher standard of service, customer care, education, support and mentorship. It's how we'll continue to help sailors at all levels pursue their passions and achieve their aspirations. Our commitment starts with our dedicated employees at more than 70 sail lofts around the world and includes hundreds more working behind the scenes to design, build and service Quantum® sails. Visit: www.quantumsails.com
Text Credit: Luissa Smith
Photo Credits: Hannah Lee Noll